100+ Scary Movies & Shows You Can Stream On Prime Video This Spooky Season
Seriously, there's something for everyone.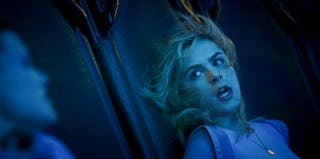 Amazon Studios
What kind of Halloween fiend are you? Do you prefer the gently spooky Halloween episodes of your favorite family-friendly television shows? Or do you prefer to watch movies so bloody and horrific that you leave the lights on for the next week? Maybe you're a self-identified scaredy cat and prefer to avoid anything creepy at all around Halloween, in which case, you're not alone. And luckily for you, Prime Video is delivering this year with a ton of Halloween-themed content — from feel-good to downright gruesome.
As a bonus for all of us scaredy cats, Amazon is launching their "Terror Tamer." The glow-in-the-dark hoodie (perfect for retreating into during intense scenes) features a skeleton design and is available Friday through Halloween for $10.31. The specially designed hoodie even comes with an extra flap to pull down over your eyes. Plus, the pockets are designed to hold your popcorn, FireTV remote, and phone, so it's even easier to fast-forward through the scary parts of any movie.
Why a Terror Tamer? While a survey done by Prime Video suggests that the average American will watch six scary movies this season, it also found that 74% can't sit still through the most horrendously tense parts of scary movies.
No matter your subscription (or scaredy-cat status), there's something for everyone through the Prime Video app.
Amazon Originals, Included With a Prime Membership:
Bingo Hell
Black As Night
Black Box*
Evil Eye*
Good Omens
Goodnight Mommy
Lore*
Madres
Make Me Scream
Master
My Best Friend's Exorcism
Nanny
Nocturne*
Run Sweetheart Run
The Devil's Hour
The Horror of Dolores Roach
The Lie*
The Manor
Totally Killer
Gen V
*also available on Freevee — no Prime membership needed
Titles Included With a Prime Membership:
Addams Family
American Horror Story S11
Beast*
Bones and All
Charmed S1-8
Child's Play
Cocaine Bear*
Crawl
Deep Blue Sea
Drag Me to Hell
Godzilla vs. Kong
Halloween Ends*
Jigsaw
Knock at the Cabin*
M3GAN*
Mama
Nope*
Renfield*
Sabrina The Teenage Witch S1-7
Saw
Saw II
Saw III
Saw IV
Saw V
Saw VI
Scary Stories to Tell in the Dark
Scooby-Doo
Scooby-Doo 2: The Monsters Unleashed
Smile
Terrifier 2
The Black Demon*
When A Stranger Calls
*exclusive to Prime Video
Additional Titles Included With a Prime Membership:
Abbott and Costello Meet Frankenstein
Anaconda
Apartment 143
Army of Darkness
As Above, So Below
Attack the Block
Bewitched
Brides of Dracula
Bubba Ho-Tep
Candyman
Curse of the Undead
Daybreakers
Devil
Disturbing Behavior
Dracula
Doom
Europa Report
Fear in the Night
Here Comes the Devil
I Saw the Devil
Invasion of the Body Snatchers
Juan of the Dead
Killer Among Us
Maniac
Mars Attacks!
Pulse
Rec
Rec 2
Rec 3
Secret Window
Smiley Face Killers
Something Wicked
Son of Dracula
Studio 666
The Devil's Backbone
The Invisible Man
The Mummy
The Relic
The Sacrament
The Wolf Man
The Witches
Trollhunter
V/H/S
Available to Rent or Buy:
Beetlejuice
Casper
Coraline
Halloween
Halloween II
Halloween III: Season of the Witch
Halloween 4: The Return of Michael Myers
Halloween 5: The Revenge of Michael Myers
Halloween VI: The Curse of Michael Myers
Haunted Mansion
Hocus Pocus
Insidious: The Red Door
Practical Magic
Poltergeist
Silence of the Lambs
Sleepy Hollow
Talk to Me
The Exorcist
The Nun II
Prime Video Channels:
Amityville: An Origin Story (MGM+)
Barbarian (Max)
Blumhouse's Compendium of Horror (MGM+)
Chapelwaite (MGM+)
From (MGM+)
Harry Potter and the Chamber of Secrets (Max)
Harry Potter and the Deathly Hallows - Part 1 (Max)
Harry Potter and the Deathly Hallows - Part 2 (Max)
Harry Potter and the Goblet of Fire (Max)
Harry Potter and the Half-Blood Prince (Max)
Harry Potter and the Order of the Phoenix (Max)
Harry Potter and the Prisoner of Azkaban (Max)
Harry Potter and the Sorcerer's Stone (Max)
Helter Skelter (MGM+)
Incarnation (STARZ)
Last of Us (Max)
Orphan (Cinemax)
Pet Sematary: Bloodlines (Paramount+)
Psycho: The Lost Tapes of Ed Gein (MGM+)
Scoob! (Max)
Scream (Paramount+)
Shining Vale (STARZ)
The Addams Family (Paramount+)
The Blackening (STARZ)
Walking Dead: Dead City (AMC+)
Available for Free, No Prime Membership Needed:
A Haunted House
Fatal Attraction
Freaky
Killer Klowns from Outer Space
Last Night in Soho
Oculus
The Forever Purge
Unfriended: The Dark Web
Wait, there's more...
Let's not forget that Prime Video spawned from Amazon and Amazon started with books. Amazon has also pulled together "Creature Feature," which highlights some of the best scary short stories they have the offer by some of horror's biggest names. You can read each of those, or download one of their many Kindle horrors all while listening to one of several Halloween playlists available on Amazon Music. They also have special October gaming content that's free for Prime members.
Looks like whatever you're into for Halloween, our content overlords at Amazon are here to deliver.