It's Screen Time! Family TV Shows You Can Watch And Enjoy Together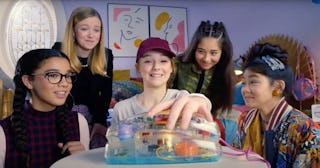 Netflix
We're not going to pretend that television didn't shape much of our lives growing up. In fact, it inspired us to be writers. Television has also been an extreme source of comfort in the last few decades. If something bad happened, we'd turn on our favorite show and distract our minds for a bit — and, well, it always works. Family TV shows are a particularly beloved form of escapism. The reason being, things often wrap up at the end of the episode. Plus, they're not afraid to delve into real-life topics sometimes. And, you know, they can be a lot of fun, too.
Many of these family TV shows are great to share with your kids. By watching together, you can find something new to bond over. A bunch of old family TV shows may not hold up, but many do. If one of the old family TV shows you choose seems to be a bit outdated on language or cultural elements, it's a great icebreaker to discuss these issues with your child.
If you're watching by yourself, there are also plenty of family drama TV shows to enjoy. Need a list full of inspiration to help you start binge-watching? Here are 18 family TV shows worth revisiting. Remember, though, that what you find age-appropriate for your kids might be different than what we deem appropriate for ours. Or from what other mamas let their little ones watch. No sweat — just pick what suits your household!
Best Family TV Shows for Kids
1. Full House: Is it a little cheesy? Of course. But that adds to its charm. If you and your kids enjoy Full House, you'll also enjoy Fuller House on Netflix.
2. Family Matters: Before the show revolved around Steve Urkel, it focused on the Winslow family. And, you can still see those family values as time goes on. Family Matters has some very heavy yet incredibly salient episodes that still hold up today.
3. Step By Step: A great representation of a blended family, Step By Step is basically the '90s version of The Brady Bunch. The show is how most millennials recognize Suzanne Somers best.
4. Family Ties: Family Ties doesn't get the same amount of nostalgia as the three above, but it's still a great show — and if you want to show your kids the Back to the Future films at any point, this is a pretty fantastic introduction to Michael J. Fox.
5. Modern Family: Sure, kids may not understand some of the humor of Modern Family. However, it's a great representation of how different families can look. Plus, it's a show that wonderfully covers LGBTQ relationships and navigating adoption, factors that make it stand out against the rest.
6. King of the Hill: Looking for a solid animated series to watch? Then, consider a King of the Hill rewatch. The show was solid throughout its 13-year run and is still very funny. It also covers issues that many other shows — especially animated shows — never dared to.
7. The Fresh Prince of Bel-Air: Will Smith's character moves to live with his wealthy aunt, uncle, and cousins after misbehaving, giving us all a reminder that "family" doesn't necessarily have to mean Mom and Dad. Smith owes a lot to this show, as it helped jumpstart his career.
Best Family Shows for Teens
8. Gilmore Girls: This is a heartwarming resource for any child raised by a teen parent — or any teen parent who's raising a teenager. Rory and Lorelai have a fascinating relationship, but the show focuses on the way it ebbs and flows.
9. Freaks and Geeks: This show, unfortunately, only lasted a season — but it deserved many more. It's perfect to watch with a tween or teen who may be feeling like an outcast. Plus, the cast is incredible.
10. My So-Called Life: Is your child a fan of Claire Danes or Jared Leto? Then this is a must-watch. A drama surrounding teens in high school, My So-Called Life can be enjoyed by families. Many kids who watched it back when it aired in 1994 felt heard for the first time. While the high school experience may have changed, the emotions likely haven't.
11. Fresh Off the Boat: Are you on a Randall Park kick after watching WandaVision? Then, you'll love him on Fresh Off the Boat, which is bound to become a classic.
12. Malcolm in the Middle: If you're raising multiple kids at once, you might want to settle down and catch Malcolm in the Middle. Frankie Muniz played the role fantastically, and Jane Kaczmarek is one of the most genuine TV moms around.
Great Cartoons for Families to Watch
13. Arthur: Arthur has always been a PBS favorite — and even older kids enjoy watching. Arthur is fantastic at showcasing diversity among friends and tackling topics like parental arguments and fire safety.
14. Hey Arnold!: Did you know that a particular episode of Hey Arnold! has saved multiple people from choking to death? It's one of the many lessons picked up from this incredible Nickelodeon original. Arnold is being raised by his grandparents, which makes it even more of a special family cartoon. 15. DuckTales: DuckTales was so popular back in the day that it received a reboot with some fresh voices and plots. If you have a Disney+ account, it's already at your fingertips. 16. Bluey: Bluey is an Australian children's show on Disney Junior. Bluey is a six-year-old Blue heeler dog who goes through daily situations with her mom, dad, and sister. She probably has just as much energy as your average kindergartener. And one of the most unique qualities about this series is how down-to-earth and clever each episode is. It's one of those shows you'll appreciate just as much as your kid. 17. The Loud House: This Nickelodeon show follows Lincoln Loud, the middle child, and only son in a family of 11 kids. Big families are the base of many sitcoms and The Loud House has a very classic animation feel, but it is far from old. The Loud House is a cartoon with modern views that does a great job of teaching children about equality and the LGBTQIA community. Lincoln and his family go through very peculiar problems, but nothing is impossible with the support of his siblings. 18. SpongeBob SquarePants: SpongeBob is an optimistic sponge who lives under the sea in a pineapple. Not only does he strive to be a good person, but he's also incredibly annoying and obtuse. His best friend is Patrick Star, a dimwitted starfish, and together they go jelly fishing, irritate their grouchy neighbor Squidward and go on all kinds of underwater adventures. SpongeBob SquarePants has a certain brand of silliness that will get the whole family laughing. 19. The Fairly OddParents: After years of being terrorized by his evil babysitter, Vicky, a ten-year-old boy named Timmy Turner is blessed with two fairy godparents. Timmy and his magical pals go on fantastical adventures every kid wishes for. Turner's parents may not always be available, but his fairy god parents are always around to make sure Timmy's wildest dreams come true.
Family TV Shows on Netflix
16. Anne With an E: Personally, we grew up on Anne of Green Gables. The fact that there's a newer version on Netflix is incredibly heartwarming and a sweet watch for any family.
17. The Baby-Sitters Club: It's a great book series, and dare we say an even better television series. Good news — the series has officially been renewed for a second season. 18. One Day at a Time: This highly acclaimed series focuses on a single mom and her Cuban-American family. It's filled with dramatic moments and many emotional (yet very poignant) life events and topics. Netflix carried the first three seasons, but a fourth is on PopTV.
This article was originally published on