Priyanka Chopra Jones Recounts Her Extensive Time In The NICU With Daughter Malti
"I didn't know if she would make it or not," the actor shared with British Vogue.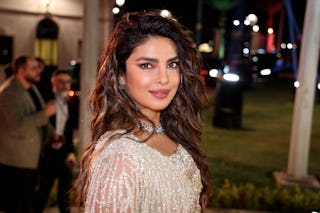 PATRICK BAZ/AFP/Getty Images
Priyanka Chopra Jonas and Nick Jonas keep their lips sealed with it comes to their private life. The world didn't even know they were pregnant until their now ten-month-old, Malti, was already born. While the couple continues to keep their daughter's face out of the spotlight, they are slowly revealing more about their journey to and with parenthood, and Chopra Jonas is now sharing more intimate details from the couple's difficult experience in the NICU.
The actress opened up to British Vogue about the hurtful reactions she faced when the couple announced that they not only were parents, but had used a surrogate. "I've developed a tough hide when people talk about me. But it's so painful when they talk about my daughter. I'm like, 'Keep her out of it.' I know what it felt like to hold her little hands when they were trying to find her veins. So no, she's not going to be [a form of] gossip. I've been really protective of this chapter of my life with my daughter. Because it's not about my life only. It's hers too," she said.
Malti was born an entire trimester early, deeming her "extremely" premature.
"I was in the OR [operating room] when she came out," she shared. "She was so small, smaller than my hand. I saw what the intensive-care nurses do. They do God's work. Nick and I were both standing there as they intubated her. I don't know how they even found what they needed [in her tiny body] to intubate her."
She wouldn't go too deeply into the specifics, but she did give some insight as to why she chose surrogacy, explaining, "I had medical complications. This was a necessary step, and I'm so grateful I was in a position where I could do this. Our surrogate was so generous, kind, lovely, and funny, and she took care of this precious gift for us for six months."
The White Tiger star may have been the bigger person when it came to internet trolls during this time in her life, but now she's got something to say to anyone who has an issue with her decision to use a surrogate.
"You don't know me," she said. "You don't know what I've been through. And just because I don't want to make my medical history, or my daughter's, [the] public doesn't give you the right to make up whatever the reasons were."
Even though Malti is now over a year old, the fears from the NICU experience still affect Chopra Jonas. When she first introduced solids to her, she shared, "she gagged, and I thought I'd killed her." She admits that Nick's parents have helped her a lot, sharing, "They talk me through a lot of this. Like, 'They're gonna gag. It's normal.' But because I'm a NICU mommy, the stakes are so high, and I have to shed that. I will."
You can read Chopra Jonas' full interview over at British Vogue.