The Full Trailer For The 'Bridgerton' Spin-Off Series 'Queen Charlotte' Just Dropped
If only Lady Whistledown could write about this.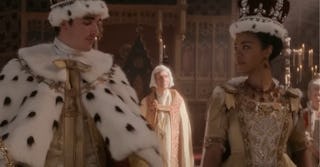 Netflix
Bridgerton fans have been patiently waiting for Netflix to drop any sort of trailer or information about a release date for their third season. In the meantime, fans can get their fill with a limited series — Queen Charlotte: A Bridgerton Story — a prequel spin-off written by Shonda Rimes that will tell the story of how Queen Charlotte came to power.
Netflix just dropped the full trailer for Queen Charlotte along with the official May 4th release date, and honestly, it looks so good.
The six-part limited series focuses on the Queen's "rise to prominence and power," Netflix says.
The show "tells the story of how the young Queen's marriage to King George sparked both a great love story and a societal shift, creating the world of the Ton inherited by the characters in Bridgerton."
In the clip, fans see a young Queen Charlotte played by India Amarteifio meeting a young King George III played by Corey Mylchreest for the first time. He stops her and introduces himself with little formality, simply saying, "I am George."
And while the trailer shows bits and pieces of their love story unfold (which appears to be the Bridgerton classic "enemies to lovers" trope with some spicy scenes!), it's clear that one of the main focuses of the limited series will center around the pressure on the couple's shoulders as they begin to court.
"Your marriage is the business of this country," a character in the clip says. "This cannot go wrong."
It seems that a lot more than hearts are at stake when it comes to Queen Charlotte's marriage to George since she is the "first of her kind."
At the end of the trailer, it seems that a young Charlotte has embraced her new status. "This is my home," Charlotte says. "I am the queen."
Queen Charlotte's backstory has been somewhat of a mystery in the first two seasons of the hit Netflix show, so it'll be interesting to finally see how Her Majesty came into power and decided which young debutante would be the "Diamond of the Season" for years to come.
In September 2022, Netflix gave fans a sneak peak of the prequel showchasing a clip of Charlotte unknowingly meeting her future husband King George III at the very moment she's trying to escape their arranged marriage.
George stumbles upon Charlotte as she attempts to scale down an ivy-clad wall. He asks why she's running away, and she says "because I think he may be a beast — or a troll."
George asks if looks are important to Charlotte, and she replies, "I do not care what he looks like. What I do not like is not knowing."
When George tells her that he has no intentions of helping her down, Charlotte protests, "I am a lady in distress. You refuse to help a lady in distress?"
He responds, "I refuse when that lady in distress is trying to go over a wall so that she does not have to marry me."
"Many viewers had never known the story of Queen Charlotte before Bridgerton brought her to the world, and I'm thrilled this new series will further expand her story and the world of Bridgerton," Netflix's Head of Global TV, Bela Bajaria, said in a statement amid the May 2021 announcement of the series.
She added, "Shonda [Rhimes] and her team are thoughtfully building out the Bridgerton universe so they can keep delivering for the fans with the same quality and style they love. And by planning and prepping all the upcoming seasons now, we also hope to keep up a pace that will keep even the most insatiable viewers totally fulfilled."
Watch the full trailer here.