The Razzies Apologize For Nominating 12-Year-Old Girl For "Worst Actress" Award
Child actor Ryan Kiera Armstrong was nominated for her role in the film 'Firestarter.'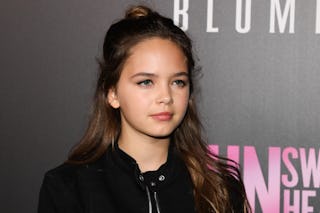 Paul Archuleta/Getty Images Entertainment/Getty Images
After receiving backlash for nominating a literal child for "Worst Actress", The Razzies (aka The Golden Raspberry Awards), a parody award show honoring the "worst" when it comes to film and actors, have now set age limits for their nomination process.
When news spread that 12-year-old actor Ryan Kiera Armstrong was nominated for Worst Actress for her performance in the 2022 film Firestarter, the general public caused an uproar. The parody award show eventually took back their nomination and set new rules about age limits, saying they will not nominate any performers under 18 moving forward.
In a statement, Razzie Award founder John Wilson apologized and confirmed the young actor's name has been removed from the ballot.
"Sometimes, you do things without thinking, Then you are called out for it. Then you get it. It's why the Razzies were created in the first place," he said.
"The recent valid criticism of the choice of 11-year-old [sic] Armstrong as a nominee for one of our awards brought our attention to how insensitive we've been in this instance. As a result, we have removed Armstrong's name from the Final Ballot that our members will cast next month. We also believe a public apology is owed Ms. Armstrong, and wish to say we regret any hurt she experienced as a result of our choices."
He went on to explain that the award show was taking further steps to ensure they do not tear apart another impressionable child with a cruel award by setting age limits. "Having learned from this lesson, we would also like to announce that, from this point forward, we are adopting a Voting Guideline precluding any performer or film-maker under 18 years of age from being considered for our awards," he said.
"We have never intended to bury anyone's career. It is why our Redeemer Award was created. We all make mistakes, very much us included. Since our motto is "Own Your Bad," we realize that we ourselves must also live up to it."
Twitter chimed in with their own opinions about The Razzies, some even hoping the entire bit would finally end after years of "awarding" underachievement in Hollywood.
"The Razzies have sunk to a new low by nominating an eleven-year-old girl — whose performance I actually dug," tweeted filmmaker Joe Russo. "If you're gonna continue denigrating people's hard work — which you shouldn't — at least target adults."
Fellow child actor, Julian Hilliard, chimed in as well, noting that with an ongoing mental health crisis for today's youth, something like this is completely lacks awareness. "The [Razzies] are already mean-spirited & classless, but to nominate a kid is just repulsive & wrong. Why put a kid at risk of increased bullying or worse? Be better."
This is not the first time that The Razzie Awards have royally stepped in it. Last year, the award show literally created a special category called "Worst Performance by Bruce Willis in a 2021 Movie", only to go back on the "joke" once Willis' family revealed he was struggling with the neurological disorder aphasia and stepping away from acting. Ooofff.
The 43rd Razzie Awards will be announced March 11.