Brendan Fraser Gives Emotional Acceptance Speech About Never Giving Up
The Whale star took home the award for Best Actor.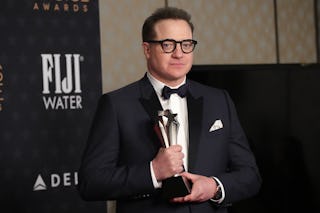 Jeff Kravitz/FilmMagic, Inc/Getty Images
If you haven't been rooting for Brendan Fraser, you can't sit with us. America's favorite underdog was finally recognized at this year's Critics Choice Awards, where he won the award for Best Actor for his role in The Whale.
While giving his acceptance speech, Fraser got emotional, and the entire room was a blubbering but proud mess.
"Thank you for this honor, Critics Choice Association," he said. "It was Herman Melville who once wrote that there are only five critics in America. The rest are asleep," he began his speech. "I don't know what it means either. But I'm sure glad that you woke up for me."
After joking that the critics slept on his 2010 film, Furry Vengeance, he got serious again, saying, "This movie, The Whale, it's about love and redemption. It's about finding the light in a dark place, and I'm so lucky to have worked with an ensemble that is incredible and includes Hong Chau, who should have her own movie based on every character she's ever played."
He took the time to speak on various members of his cast and crew and then concluded his speech, sharing, "If you struggle with obesity or you just feel like you are in a dark sea, I want you to know that if you can have the strength to just get to your feet and go to the light, good things will happen. Thank you."
There was not a dry eye on this house, and many members of the audience gave him a standing ovation.
"Pretty sure we all want to group hug him and tell him how wonderful he is," a follower wrote in response to the speech. "This year's award season is clearly about tenacity, stamina, and redemption. Between him, Ke Huy Quan, and Michelle Yeoh, all their stories are darn inspiring!!!" another gushed.
The Whale was first released at the film festival level, and its reviews prompted the theatrical release of the film in December 2022. This created an early buzz that Fraser would be up for major awards, and they were totally right.
However, when it came to the Golden Globes, Brendan made it clear he would not be attending."It's because of the history that I have with them. And my mother didn't raise a hypocrite. You can call me a lot of things, but not that," the actor told GQ.
In 2018, Fraser alleged that a member of the Hollywood Foreign Press Association had sexually assaulted him, and Brendan has since then been very candid about his struggles in Hollywood and his mental health since then.
Brendan was nominated for Best Actor In a Motion Picture, Drama category, which was awarded to Austin Butler for his role in Elvis.
Looks like his boycott from the Globes couldn't steal his time in the spotlight — Keep shining, Brendan! Let's see what happens with the 2023 Academy Awards next!