Is Ride Returning For Season 2? The Hallmark Channel Show's Fate Is Still Up In The Air
Only time will tell if Hallmark will head back to the McMurrays' ranch.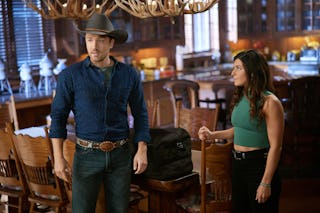 David Brown/Hallmark Media
In its first season, Hallmark Channel's Ride proved itself to be a gentler version of Yellowstone. The ranch-based drama had plenty of action, but no one got sent to the train station, making it a far more family-friendly viewing option than the Paramount Network juggernaut. Season 1 wrapped on May 28 with a cliffhanger ending for Cash, but it could be a while before fans get an answer on whether or not the McMurray family will be back for a Ride Season 2.
Hallmark is keeping mum on Ride's fate for now, but here's what we know so far about a potential Season 2 of the modern-day cowboy drama.
Where did Season 1 leave off?
*Warning: Spoilers ahead!* The first season concluded with Cash making an enemy out of Tucker when he decided not to throw his bull ride at the last minute. Meanwhile, Cash also discovered that his deceased older brother Austin has a son named Wyatt — making him an uncle. Add in Missy ditching town for a new job after both Cash and Gus revealed they have feelings for her, and it's clear there's no shortage of plot threads in desperate need of tying up.
Why hasn't Ride been renewed for Season 2 yet?
Few things are more annoying than falling for a new show only to have it canceled after one season. But given how popular TV westerns are at the moment (thanks to shows like Yellowstone and Walker), there's still reason to hope the Hallmark series will get renewed for another season.
Currently, Hollywood is in a holding pattern thanks to an ongoing writers' strike. As film and television writers wait for the studios to offer them fair pay, many productions have ground to a halt. Series renewals and pick-ups are also slowing down as the strike wears on (it's been going on for over a month now, per Deadline). That leaves many shows, including Ride, in a state of limbo for the time being.
What has the Ride cast said about a potential Season 2?
Ride's cast remains optimistic about the possibility that the series could still return for a second season. In a post-Season 1 finale interview with TV Line, Beau Mirchoff, who plays the McMurray family's second son Cash, shared his thoughts on why the series deserves to be renewed.
"I don't want to jinx anything, but I mean, fans seem to love it, the ratings are pretty good," Mirchoff said. "More people are discovering it; that's really cool. Sometimes, shows need a little time. It's a really great show. I think they'd be silly not to give it a second season."
If the series returns, what might happen in Season 2?
Given how Season 1 ended, there's still plenty of story to tell in a potential Season 2. One of the most exciting stories from a romance point of view is the Cash/Missy/Gus triangle. Even though Missy leaves to take a new job in Albuquerque in the finale, she still has plenty of unfinished business at the ranch. Add in the part where her deceased husband had a child she never knew about, and the possibilities for drama are endless.
Ultimately, Ride is a series about the day-to-day struggles of a ranching family, and after just 10 episodes, the McMurray family's story is just getting started.