Ryan Seacrest's Schedule Just Got A Whole Lot Busier
He'll take over for Pat Sajak on "Wheel of Fortune."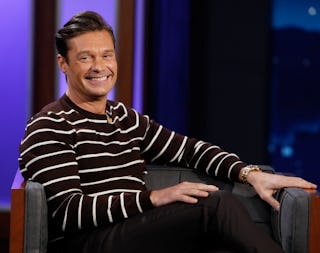 Randy Holmes/Disney General Entertainment Content/Getty Images
Super host and Hollywood workaholic Ryan Seacrest is stepping into yet another hosting role. The American Idol OG announced via social media that he will be taking over for legendary Wheel of Fortune host Pat Sajak once he retires at the end of next season.
The radio host and red carpet connoisseur signed a "multi-year agreement" to host the show starting in 2024, Sony Pictures Television said in a news release. He will also serve as a consulting producer on the beloved game show.
Sony Pictures Television also confirmed that Sajak will continue a partnership with the program as a consultant.
"I'm truly humbled to be stepping into the footsteps of the legendary Pat Sajak. I can say, along with the rest of America, that it's been a privilege and pure joy to watch Pat and Vanna on our television screens for an unprecedented 40 years, making us smile every night and feel right at home with them," he said in a statement, referring to co-host Vanna White.
"Pat, I love the way you've always celebrated the contestants and made viewers at home feel at ease," Seacrest added. "I look forward to learning everything I can from you during this transition."
Earlier this month, Sajak, 76, announced his plans to retire from hosting Wheel of Fortune.
"Well, the time has come. I've decided that our 41st season, which begins in September, will be my last," he wrote in a tweet. "It's been a wonderful ride, and I'll have more to say in the coming months. Many thanks to you all. (If nothing else, it'll keep the clickbait sites busy!)"
Sajak, a three-time Emmy award winner, has been host of the game show since 1981 alongside White. The show has maintained popularity in the primetime lineup ever since.
Wheel of Fortune, created in 1975 by mogul Merv Griffin, features contestants who are attempting to solve hangman-style word puzzles while spinning a now-iconic wheel for cash and prizes. Sony says Wheel of Fortune draws more than 26 million viewers a week.
"Many people probably don't know this but one of my first jobs was hosting a little game show called 'Click' for Merv Griffin 25 years ago so this is truly a full circle moment for me and I'm grateful to Sony for the opportunity," Seacrest added to his post. "I can't wait to continue the tradition of spinning the wheel and working alongside the great Vanna White."
The new job for Seacrest comes just a few months after he left his post as co-host of Live With Kelly and Ryan where he worked for six years with Kelly Ripa.
The 48-year-old has more jobs than the average person, including hosting American Idol, On Air With Ryan Seacrest, American Top 40, New Year's Rockin' Eve and his morning show for L.A.'s KIIS-FM radio.
Looks like with Wheel on the horizon, the busiest man in show business just got a whole lot busier.