Sarah Jessica Parker Wants Her Kids To 'Pine For Things'
The "And Just Like That" star opened up about how she parents, and it involves a lot of home-cooked meals and very little takeout.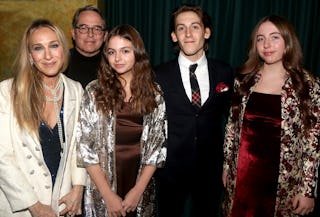 Bruce Glikas/WireImage/Getty Images
Sarah Jessica Parker's character Carrie on Sex and the City and And Just Like That is famously child-free. But in real life, Parker is much more of a Charlotte or Miranda in the kid department — and she deals with all the same child-rearing conundrums that parents are faced with every day even if she does live a glamorous life in New York City just like her character.
The 58-year-old film star and mom is busy raising her three children — James, 21, and twin girls Marion and Tabitha, 14 — with fellow actor Matthew Broderick. And as she shared this week on the Table for Two with Bruce Bozzi podcast, the very private parent shared a few of her philosophies when it comes to raising teens.
First and foremost, despite having the budget to do whatever they damn well please, the family of five eats homemade meals almost every night together.
"We cook every night," she said. "It's a source of huge amount of pride for everybody."
Who knows if they have help with grocery shopping or meal prep, but at the end of the day, the family is using their kitchen appliances as more than storage space, as Carrie Bradshaw has been known to do, and sitting down together as a unit.
"We really do cook five to six nights a week for sure," she said.
Not even takeout is on the table most nights, she continued.
"It's also mystifying because we just don't order in as a family," she said.
And once a week, things get a little more fancy and organized with a bigger dinner.
"We have always have a Sunday dinner — we invite people."
How does one get on that amazing invite list? And what's for dinner?
It gets even more down to earth than that. Parker also talked about how she believes that kids should consistently have their basic needs met, but that even the most privileged New York City kids shouldn't get everything under the sun.
"I think it's a great way of living for children that their needs are met — to be fed, safe and loved, the important things in life: books and food and interesting experiences, and they're warm in the winter and cool in summer," she explained. "But they should pine for things, they should want things. And we should also be interested in, how do they contribute to the things?"
After watching the new season of And Just Like That, which is pretty saturated with wealth and over-the-top spending, it's refreshing to hear that SJP is living life more than a little bit differently, and raising her kids to be pretty sane about money.
This isn't the first time she's expressed how she wants her kids to relate to money and finances. Last fall, she said in radio interview in Australia that raising grounded children was high on her list of priorities.
"Parents who aren't well known can have children who aren't grounded because of the example they set in their home," she said. "I will do my best to make sure you always have what you need, but I want you pining toward something. I want you to work for something, to dream of it, to will it to happen." 
That's a lesson everyone can take home.