Sarah Jessica Parker Admits She Doesn't Like Looking At Herself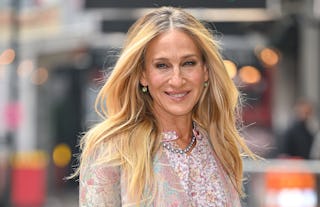 James Devaney/GC Images/Getty Images
Sarah Jessica Parker opened up recently about beauty standards, aging, and the constant pressure for women to "look" a certain way. She also spoke about plastic surgery and why she decided against any procedures.
While speaking with Howard Stern on his SiriusXM radio show, the 58-year-old Sex and the City alum talked about her looks during a conversation with Stern about how she was cast in the film L.A. Story, a 1991 romcom starring Steve Martin.
Howard brought up that he had heard Martin wrote Parker a note telling her he thought she was really beautiful and had the potential to be a leading lady. Parker clarified some things.
"It's a version of how I was cast, basically," Parker said.
"I auditioned many times for L.A. Story and then I did a screen test with Steve Martin. I was so nervous. And I loved him. We grew up watching him on Saturday Night Live ... I think that story, that idea, came from me when I was cast in L.A. Story, it was as if Steve Martin was saying, 'I think you're attractive, you can play these kinds of parts.'"
Stern then wondered whether Parker sees the beauty in herself that the rest of the world sees. (Hello, we all remember how smokin' hot she was in The First Wives Club.)
In a totally human and relatable moment, Parker admitted that she thinks she's "fine" and prefers not to focus much on her appearance.
"I'm presentable," she said. "I don't really like looking at myself... I mean, I think I'm fine."
Stern then proceeds to ask the Failure To Launch star if she's ever considered plastic surgery or face fillers.
"I honestly think I missed out on the facelift," she admitted. "That'd be to me, like the thing. Like an old-fashioned good one that you have when you're like 44."
Stern then asks Parker if she wishes she had gone under the knife.
"Eh," she replied, "I've heard stories," to which Stern responded: "I've seen some horror stories. I'm glad you didn't."
Parker then went on to explain that, despite her decision not to have plastic surgery, she understands why so many women in Hollywood (and everywhere else in the world) decide to undergo anti-aging procedures.
"You understand why people make the choice because there's so much emphasis put on — especially women and primarily women — about looks," she said.
"Even last year when we first went on the air with the new season there were just so many endless articles about aging and aging gracefully and, you know, Sarah Jessica's hair is gray. And I was like, 'First of all, it's not.' But who cares?"
She then compared the media's obsession with female stars aging compared to that of their male counterparts.
"I'm sitting next to Andy Cohen whose head is covered in gray hair and you've not mentioned that at all. So I understand why women feel like there is so much chatter and opinions. I don't think it's wrong. I think people should do whatever they feel ... it makes them feel better walking out the door, frankly."
Last year, Parker spoke out about her confusion as to why so many media outlets were applauding the actor for "going gray."
"It became months and months of conversation about how brave I am for having gray hair," she recalled of the viral moment last summer in an interview with Glamour. "I was like, Please, please applaud someone else's courage on something!"
Parker also touched on how she was labeled "brave" for the And Just Like That... episode in which Carrie goes to a plastic surgeon to see how she could look with the right procedures.
"So you'd have that moment and then you'd immediately start aging again and 15 years later you're in the same place," she pondered.
"What's the point? I just…don't care enough. When I walk out the door, I want to feel okay—according to my standards. I can't even tell you what those standards are. But you know how you feel when you feel most like yourself, whatever that means. I'm not without vanity. I guess I just don't care enough about everybody else's opinion."
In a world obsessed with appearance, Parker's ability to let others opinions of her looks roll off her back is something to aspire to.