Sarah Jessica Parker's Teen Daughters Have Never Seen 'Sex And The City'
The actor explained why her 14-year-old twins haven't seen a single episode.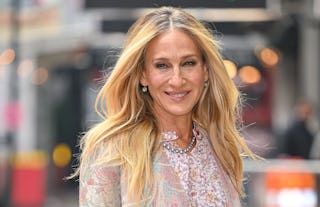 James Devaney/GC Images/Getty Images
Sex and the City made an impact on an entire generation of women — not to mention the TV industry — when it first began airing back in 1998. And many of the people watching the smash hit on HBO at the time were teens, including me.
But that was a solid 25 years ago, and times, television, and teens have all changed a lot. It's hard to say if teens today would be interested in a dated show about dating. But one thing is for sure: Sarah Jessica Parker's teen girls are not watching, even though their mom is the star of the whole shebang.
The And Just Like That... star opened up to Extra about how twins Marion and Tabitha (who celebrate their 14th birthday on Thursday) haven't seen the iconic show — and may not ever watch it at all.
"No, they have not," she told journalist Adam Glassman when asked. "They'll be 14, as you know, at the end of this month. Thus far — maybe that's unique given the complication of me being their parent — thus far, it's not been something that's crossed their viewing radar, and perhaps it never will. I understand that. They are aware of the show to the degree that they are interested. It's not a paramount topic in their lives."
In past interviews, Parker, 58, has said that her girls, whom she shares with fellow actor Matthew Broderick, were too young to watch the show.
The twins aren't the only ones who haven't seen their mom in her most famous role, as sex columnist Carrie Bradshaw.
Last week, 20-year-old James, the oldest of the Broderick brood, confessed that while he tried to watch a few new episodes of And Just Like That..., he's never seen his mom's original six-season series. He explained why to Entertainment Tonight.
"I tried to watch the new one and I liked it but then I felt weird, 'cause I haven't watched the original," James said. "It felt a little weird to be watching the newer one having not watched it, even if it's accessible."
"I guess it's kind of obvious why maybe I hadn't watched the original show as a kid," he said, in reference to the show's sexual content.
"But now I don't really have an excuse," James continued. "People ask like, 'Oh, is that awkward for you? There's like a lot of [risqué] scenes.' That's not that big of a deal for me. I think I just was a little too young before."
He added, "I'm running out of excuses."
Welp, maybe at Broderick has watched her show?
One thing that the family can agree on is going to see Parker and Broderick bring their play Plaza Suite to London's West End next year.
"We are really excited," she told Extra, when asked if that event will be a family affair.