How 'Schitt's Creek' Helped Me Come To Terms with My Sexuality — And Find Myself
by A.M. Thompson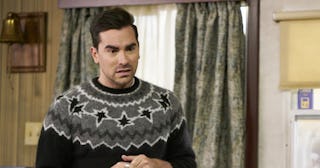 Pop TV
"Schitt's Creek" is something of a cultural phenomena, and for good reason. The six-season, Canadian comedy series is captivating, compelling, witty, funny, and chock full of talent. From the cast and crew to those in the writing room, the show is brilliantly developed, created, lit, and shot, and with lessons on love and loss to learning how to properly store wigs, "Schitt's Creek" is motivational and educational. It is an inspiration. It's also award-winning. In 2020, "Schitt's Creek" broke several Emmy records. But Daniel Levy's character, David Rose, changed my life. Scratch that: David inspired me to live my best life. He also helped me come to terms with a label that I — a married mother of two in a heterosexual relationship — had been struggling to embrace.
Queer.
I was, and am, queer.
Of course, I had no idea the effect the show would have on me when I first tuned in. Like many viewers, I went in blind, looking for a good quarantine cope. See also: I love Catherine O' Hara and Eugene Levy and needed a solid laugh. But during episode 10 of season one, I found myself crying fat, ugly tears. The kind that cause your face to contort and leave you gasping for air. The reason? Daniel Levy's character was talking about wine. (Yes, really.) And his words struck a chord with me. His conversation with Stevie — played by Emily Hampshire — about Chardonnay and cabernet left me feeling seen and heard. I finally felt understood. The reason? Because wine was a metaphor for David's sexuality.
He famously admitted he loves the flavor, not the label.
For those unacquainted with the scene, let me paint a picture. David and his friend Stevie are shopping for party supplies when they are forced to make a tough decision: Do they bring red wine or white wine to the party? The new friends (who recently slept together) are trying to better understand what happened between them — are they just friends, or something more? — and Stevie is trying to understand David's sexuality because, up until the moment of their tryst, she believed he was only attracted to men.
"Just to be clear, I'm a red wine drinker," Stevie tells David. "I only drink red wine. And up until last night, I was under the impression that you, too, only drank red wine. But I guess I was wrong?"
David, aware of the conversation's subtext, assures her that he does drink red wine. "I do drink red wine. But I also drink white wine," he says. "And I've been known to sample the occasional rosé. And a couple of summers back, I tried a merlot that used to be a Chardonnay, which got a bit complicated."
"I like the wine," he adds. "Not the label."
And that line hit me like a ton of bricks. I too had been struggling with my "label." For years, I couldn't figure out who I was or what I wanted. I never felt like I belonged, or that one sexual preference was the one for me. But when I saw that scene in the wine store, a light went off in my head — and my heart. It didn't matter what I was. Not really. What mattered was that I was true to myself and happy.
What mattered was that I enjoyed both my life and "the wine."
After watching "Schitt's Creek," I came out to my psychiatrist — and found a (new) therapist. I admitted I was struggling and needed help living an authentic and fulfilled life. I spoke with my husband, telling him I was queer. Gay. We began navigating this new place and state. Our new normal. I reached out to some of my LGBTQ friends: for help. For advice. For love, understanding, and support. And I contacted the New York City Pride Center.
I'm in the process of getting aid and assistance.
I am working to connect with a peer counselor, attend meetings, and gain additional support.
Ironically, I still live a (somewhat) closeted life. I mean, a few close friends and family members know my true identity. They know my tastes and wants. My true desires. But I struggle with confidence. My sexuality is still a source of anxiety. I am very, very afraid. But thanks to shows like "Schitt's Creek" — to characters and people, like David Rose and Daniel Levy — I am embracing my true self one second, one minute, and one sip of Chardonnay at a time.
If you or someone you know needs help coming out or simply need general LGBTQ support, call The Trevor Project hotline at 1-866-488-7386, connect with someone at the LGBT Foundation helpline, and/or find your local pride center.
This article was originally published on