Shannen Doherty Reveals Her Breast Cancer Has Spread To Her Brain
The 'Charmed' star posted a devastating update on social media.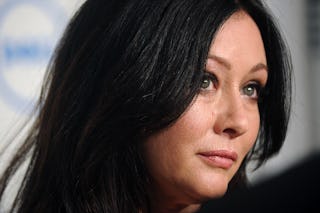 Brad Barket/Getty Images Entertainment/Getty Images
Actress Shannen Doherty shared a devastating update with her social media followers about the spread of her breast cancer.
Doherty, 52, star posted a video of her receiving cancer treatment with tears in her eyes. The caption on the video began, "January 12, 2023."
"On January 5th, my ct scan showed Mets in my brain. Yesterdays video was showing the process of getting fitted for the mask which you wear during radiation to your brain," the caption reads. "January 12, the first round of radiation took place."
"My fear is obvious. I am extremely claustrophobic and there was a lot going on in my life," Doherty, 52, wrote.
"I am fortunate as I have great doctors like Dr Amin (Mirhadi) and the amazing techs at cedar sinai. But that fear…. The turmoil….. the timing of it all…. This is what cancer can look like."
Several celeb friends of Doherty commented on the post with words of love and encouragement for the Charmed actor.
Actor Selma Blair, who has been battling her own health journey with multiple sclerosis, commented on the post, saying, "This is a lot. This is a lot to take on, still again. And I am wishing for all the wise peace you have learned to find you in the terror moments. To know we are holding you. Love. All love."
Sarah Michelle Gellar called Doherty "a warrior."
Mall Rats director Kevin Smith wrote in the comments, "Rooting for you, my irreplaceable friend. You have been such a fearless fighter your whole life, so it's understandable to be a little scared from time to time. But when those moments pass, let that indomitable Doherty spirit take over anew. I love you so much, my Mallrat."
Doherty starred in the 1995 American buddy comedy film.
Doherty first shared that she had been diagnosed with cancer in 2015. Two years later, she went into remission.
In 2020, Doherty announced the cancer had returned, spread and was Stage 4.
She shared on Good Morning America that she had been privately living with cancer.
The actress also revealed in that interview that her decision to go public with the diagnosis came amid a legal battle against State Farm over claims she was forced to pay out of pocket after her house was "severely damaged" in the 2018 Woolsey fire.
She said she decided to come forward because legal documents, which mention her cancer, were about to become available to the public in order to get ahead of the news.
In 2016, Doherty received the Courage Award at the American Cancer Society's Giants of Science Gala in November.
In her speech, she said, "Cancer has been my teacher. It's taught me what love, strength, friendship and support truly looks like. It's opened my eyes to myself and it's allowed me to not only share my journey with people but it's actually allowed me to share my inner self with anybody who actually wanted to know what it was like. And the end result is that I am nothing but vulnerability and, to me, vulnerability is courage."
Doherty's outlook is truly inspiring. Wishing nothing but love and good vibes for her during this unimaginable time.