Stassi Schroeder Had Her Baby And The Entire Internet Is Confused By The Name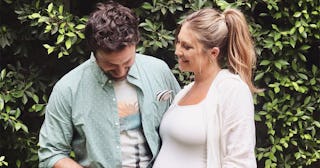 Stassi Schroeder/Instagram
Stasssi Schroeder and husband Beau Clark have named their daughter Hartford Charlie Rose Clark
Stasssi Schroeder has a new job title to add to her resume: mom. The 32-year-old former star of Vanderpump Rules star, who announced she was expecting her first child with husband Beau Clark in June 2020 shortly after she was fired from the hit reality series for racist behavior, welcomed a baby girl this week, her rep has confirmed to People. However, it is the couple's name selection that really has people talking.
"We truly cannot begin to describe the happiness and joy we are feeling at this moment. It's something that you hear from all new parents right after birth, but something magical happens," the couple told the publication. "We are feeling so blessed and grateful to have a beautiful and most importantly, healthy baby girl."
The couple's daughter arrived at 6:57 p.m. on Jan. 7, weighed 7 lbs., 3 oz., and measured 19 inches long. They have named her Hartford Charlie Rose Clark, honoring Clark's father (Charlie) and Schroeder's grandmother (Rose) with their middle name selection. And as sweet as that tribute is… um… yikes?
Social media was quick to point out that the baby girl also shares a name with alleged sexual harasser, former journalist Charlie Rose, who was fired from CBS and PBS after eight women came forward with their claims in 2017.
"how much do we want to bet that stassi and beau have never heard of charlie rose and kept the name a secret so no one in their life was able to warn them ahead of time," chided one user.
Another user joked they should have gone with Gayle King instead.
Someone else suggested that maybe they should "pull an Amy Schumer" and change their baby's name down the road. "Hartford is the most dangerous city in America, & Charlie Rose…well," they tweeted.
Back in April, Schroeder hinted that a baby could be in her future.
"This summer — before I knew I was going to be proposed to — yes. I know Beau is my person and the man I want to be with and I want to have a family with, and I'm not going to sit around and wait for him to propose to me for me to do the things that I want to do with him," she said during the Vanderpump Rules After Show.
"I'm not tricking him into a pregnancy. He was an active part of the conversation and participating. So, like, he knew what was going on, but I'm like, 'Okay, I'm going to take matters into my own hands. I can't wait to be a mom, then let's just start doing this because I'm not waiting around for this anymore,'" she said.
Since announcing she was expecting, Schroeder's social media feed has been filled with photos of her baby bump and quips about her upcoming role as a mom.