A 'Shrek' Reboot Featuring The Original Voice Cast Is In The Works
The O.G. voice actors are reportedly showing "tremendous enthusiasm" to return.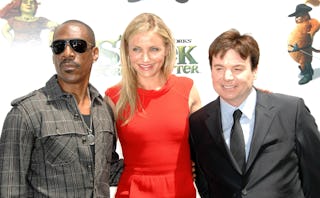 Steve Granitz/WireImage/Getty Images
Shrek premiered in theaters over 20 years ago. However, the ground-breaking animated DreamWorks film remains one of the most memorable and quotable films today. After a couple sequels and spin-offs, it seems that moviegoers might be ready for another installment about a misunderstood ogre and his friends.
While speaking with Variety recently about the upcoming animated film The Super Mario Bros. Movie, Illumination CEO Chris Meledandri revealed he and DreamWorks Animation intend to revive the Shrek franchise and develop Shrek 5 with original voice actors Mike Myers, Cameron Diaz and Eddie Murphy.
"It's not that dissimilar to the process that we went through with Mario, where you look at what the core elements are that audiences have loved, and you do your very best to honor those core elements," Meledandri said.
"And then you're hard at work to build story elements and new characters that take you to brand new places," he added. "The original cast is a huge part of that."
While no one from the original Shrek has officially signed on for the new installment just yet, negotiations are underway. The producer told Variety that "every indication that we've gotten is there's tremendous enthusiasm on behalf of the actors to return."
Based on a recent interview, it seems like Eddie Murphy — who voiced the lovable and hilarious Donkey — would be ready to reprise his role tomorrow.
Murphy, 62, said during an interview with Etalk that he would reprise his role as Donkey "in two seconds."
Meledandri confirmed Murphy's interest and told Variety that Murphy's intrigue to come back to the franchise shows "his strong enthusiasm for a role that he so brilliantly inhabited and really created alongside the artists at DreamWorks."
"I found that comment to be very exciting," the film producer added, noting that there are also talks of a Donkey spinoff movie similar to the two Puss in Boots movies, released in 2011 and 2022.
Mike Meyers has also publicly said that voicing the character of Shrek has been a highlight of his career.
"I loved playing Shrek," the Saturday Night Live alum told GQ during an interview in May 2022. "If I had to do one Shrek a year I'd be thrilled."
Cameron Diaz, who hasn't done a film since 2014, has returned to acting in smaller projects for a stint. However, there have been rumors she will re-retire from acting once the project is complete. Would the Shrek 5 reboot change all that? A Shrek film without Diaz voicing Princess Fiona just wouldn't be the same.
There is no set time for the potential Shrek 5 release date as of today.