Sophie Turner Shared Unseen Photos From Her Second Pregnancy & She's Glowing
The former 'Game of Thrones' star welcomed her second child with Joe Jonas last summer.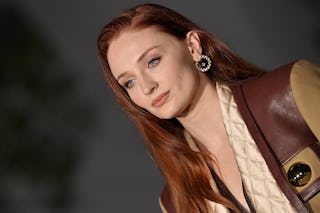 Axelle/Bauer-Griffin/FilmMagic/Getty Images
Celebrating a new year always makes people feel a bit wistful and nostalgic, and celebrities like Sophie Turner are no different. The actress shared some never-before-seen photos from her second pregnancy on Instagram, and let's just say — she is pregnant woman goals.
Turner, 26, welcomed her second daughter with husband Joe Jonas, 33, this past July.
Along with photos from nights out with friends, a trip to the Louvre, and a date night, the Do Revenge actress also shared a couple pictures that show a glimpse into what pregnancy was like for Turner the second time around.
In one unique shot, Tuner shows the underside of her bump through a mirror reflection. Another photo shows the mother of two in a hospital bed, donning a green hospital gown and braided pigtails, presumably about to welcome her second child.
"What a year friends," she captioned the post.
Turner and Jonas welcomed their first daughter Willa in July 2020, one year after they couple married. Getting to see some pregnancy shots of Turner is rare, as the actor usually remains private about her family life.
In a May 2022 interview with Elle UK, The Staircase star opened up about being a young mom and how it's changed her.
"When my friends come around, I'm like, 'Oh my God, you guys keep me so young,'" she told the magazine, laughing. "We're all only 25 or 26. I have to remind myself that I'm in my mid-twenties. I'm a child."
In a relatable follow-up, Turner joked that motherhood has turned her into a bit of a square. "I'm sure there's a part of me that's still like that, deep down. But becoming a mum, you just become way less cool. I'm like an old woman," she joked.
She also spoke about how her daughters' privacy is sacred. Every decision she and Jonas make is for the betterment of their kids. "I'm very protective of the life we've built," she said of her relationship with Jonas. "Every time Joe and I do a red carpet together, we make sure it's for the right reason and makes sense for our careers. You never want to market yourself as a celebrity couple. It's not that cool."
She continued on to say that she knows first hand out anxiety-inducing and draining being in show business can be, and because of that, she wants to remain cautious with her kids following in their parents' footsteps.
"And my daughter never asked for any of this. I know what it can do to your mental health to be in this industry, and to be photographed every day and have the comments. It's not something I want her to deal with unless she says, 'This is what I want to do.' We're quite strict about that. We'll encourage her to do whatever she wants but I don't think we would professionally let her do anything until she's 18. I also feel quite strongly about my daughter not becoming a nepotism child."