Spanish Actor Ana Obregón Welcomed Her Late Son's Child Via Surrogate
She's 68 and her son died from cancer at the age of 27.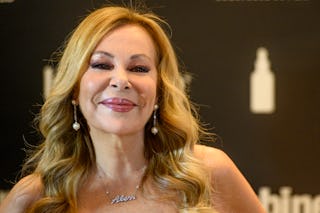 Juan Naharro Gimenez/Getty Images Entertainment/Getty Images
Spanish actor Ana Obregón revealed that she fulfilled a promise she made to her late son Aless Lequio before he died — by bringing his daughter into the world with the help of a surrogate.
Obregón explained that Lequio had frozen his sperm before undergoing chemotherapy for cancer, and the baby is the result of his sperm and the surrogate's egg.
"This baby girl is not my daughter, but my granddaughter. She is Aless' daughter and when she grows up I will tell her that her father was a hero so that she knows who she is and how proud she should be of him," Obregón, 68, told Hola! magazine.
She said that the decision to try and conceive her son's baby "was made the day my child went to heaven."
Lequio passed away in 2020 from cancer.
"What people don't know is that this was Aless' last wish: to bring a child into the world," she said, adding that he told her and his father, Alessandro Lequio, his final wishes "a week before he died."
Since surrogacy is forbidden by law in Spain, Obregón chose to preserve her son's samples in the United States and get a U.S.-based surrogate, according to Reuters.
"The only thing that has allowed me to continue living every day, every second, is to fulfill the mission of bringing Aless' daughter into the world," she said.
The new grandmother shared that she found out in August that the baby was successfully conceived and, a few months later, she got the news that the baby was a girl.
Baby Ana Sandra Lequio Obregón was born March 20 in Miami.
"I'm happy! Surrounded by diapers, bottles, all pink, full of bows and smelling like perfume, how wonderful!" she said. "Also, Aless Lequio loved babies and would go crazy every time he saw one."
She even honored his wishes of what he wanted to name a daughter if he ever had one, a tribute to Obregón. "He told me: 'I am going to call my first daughter Ana, like you, mommy,'" she recalled.
She also told the media outlet that she may not stop at just one child. "My son wanted five kids," she said. "Maybe one day we will have a boy."
Though she had faced some criticism — especially from those in her native country — she doubles down on her decision to go forward with the surrogacy.
"I failed my son and I could not save him, but this, which I swore to him with my life, I have done and no one can take that away from me," she said.
"And I don't think there is anyone in the world, when they see this beautiful girl — who was so desired by her father from heaven and by me on earth and by all those who love me — will not think the same way. It is something that only fathers or mothers who have lost a child will perfectly understand."