Netflix Just Announced A Stranger Things Animated Series Is In The Works
You weren't prepared to leave Hawkins already, were you?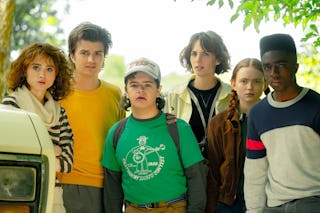 Stranger Things wrapped its fourth season almost a year ago, and we're still waiting for news on when we'll see its fifth and final season. However, Netflix has just announced more adventures in Hawkins are coming soon(-ish) — this time in animated format.
"We've always dreamed of an animated Stranger Things in the vein of the Saturday morning cartoons that we grew up loving, and to see this dream realized has been absolutely thrilling," read a statement from the Duffer brothers, who created and have run the supernatural series since its premiere in 2016. "We couldn't be more blown away by what Eric Robles and his team have come up with — the scripts and artwork are incredible, and we can't wait to share more with you! The adventure continues…"
Robles has been announced as the key to the series' development for Netflix. While "the Duffer brothers" are well-known to Stranger Things fans, Robles might not be as well known to them, but he's no less qualified to lead the animated show. Robles made a name for himself in the animation world with gems like Fanboy and Chum Chum and Glitch Techs.
What will the Stranger Things animated series be called?
There's really very little known about the show yet, including its exact title. Speculation suggests that Stranger Things will be in the title, though, just to keep branding unified and make it easily searchable.
What will the animated Stranger Things be about?
While not much has been released about the series yet, the Duffer brothers' statement gives fans plenty to speculate on. For starters, suggesting the new series is reminiscent of "Saturday morning cartoons" says a lot. Those cartoons were never as terrifying as Stranger Things, although the likes of Scooby Doo did sometimes push the boundary between silly and spooky. It also suggests something more procedural and less cinematic. Each episode will likely have its own neatly wrapped story arch instead of requiring viewers to watch the whole series or season to find any conclusion.
Who will star in the Stranger Things animated series?
It's not out of the question to expect to see the same names and voices popping up on the new show. However, with seven years in Hawkins already under their belts, the actors might be ready to put it behind them. Furthermore, those seven years have also turned the Hawkins kids into full-blown adults. Even if the show follows animated versions of Eleven and the gang, they might use younger actors to voice them.
When will the animated Stranger Things premiere?
The Stranger Things animated series is in development. That means showrunners are possibly only just looking at episode synopsis or overarching stories. With the hiring of Robles, they've probably nailed down the style of animation they want for the show. However, there probably aren't complete scripts or even casts yet. In other words, we're a long way off from the premiere of this new, animated Stranger Things.
According to Deadline, the Duffers launched Upside Down Pictures last summer and have several things related to the Stranger Things universe in the works. Among them? A live-action stage play and now the animated series.
Not sure what to do with all things time before Stranger Things season 5 and now the impossibly long wait for the animated show? These shows like Stranger Things — along with some nostalgic '80s movies — are the perfect solution for holding you over. (Here's hoping we don't have to wait too long, though!)