Has The Summer I Turned Pretty Been Renewed? More Cousins Beach, Coming Up!
Prime Video's teen beach drama has fans hooked, but will the show get another season? Here's what we know so far.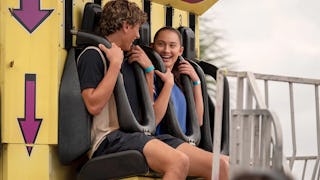 Erika Doss/Prime Video
By now, you've undoubtedly discovered TV's equivalent to a beach read: Prime Video's The Summer I Turned Pretty. And if you haven't, here's your sign to stream until you're caught up — Season 2 is currently airing new episodes weekly until the season finale on Friday, Aug. 18. Fans are *fully* invested in the multigenerational drama (aka the friendship between Susannah Fisher and Laurel Park, and the bond between their kids Conrad and Jeremiah Fisher and Isabel "Belly" Conklin and Steven Conklin, respectively). So, naturally, everyone wants to know if The Summer I Turned Pretty will get a third season.
The series, which is based on Jenny Han's bestselling novels, follows the families as they return each summer to the Fishers' beloved house at Cousins Beach. Young love (triangles), loss, drama, deb balls... what more could you ask for in a summer show? It's little wonder The Summer I Turned Pretty has become such a hit — Season 2 is one of the 10 most-watched seasons of any series ever on Prime Video, more than doubling Season 1's viewership within three days of its premiere.
What's the verdict? Do we get to see the saga of the Fishers and Conklins continue to unfold? Here's what we know.
Has The Summer I Turned Pretty Season 3 been greenlit yet?
It's official! The Summer I Turned Pretty has been renewed for a third 10-episode season at Prime Video, according to the streaming service.
"We've been delighted to see the passion with which fans have embraced The Summer I Turned Pretty, making Summer Fridays an entertainment phenomenon," said Vernon Sanders, head of television, Amazon and MGM Studios. "This charming, deeply heartfelt series has shown the breadth of our customer base, appealing to a young, diverse set of viewers. Jenny Han is a gifted storyteller, whose fans have been clamoring for the third chapter of this story. We're excited today to share the news that they have a lot more Summer to look forward to."
Han will return as showrunner alongside Sarah Kucserka. As Season 3 was greenlit ahead of the WGA and SAG-AFTRA strikes, production will not begin until those labor negotiations have been resolved.
Who's returning for Season 3?
Warning: Spoilers for Season 1 and Season 2 of The Summer I Turned Pretty ahead!
While it's too early to know for sure which cast members will reprise their roles for Season 3, it feels fairly safe to assume we'll see all of the kids again:
Lola Tung as Belly Conklin
Sean Kaufman as Steven Conklin
Christopher Briney as Conrad Fisher
Gavin Casalegno as Jeremiah Fisher
Rain Spencer as Belly's BFF Taylor Jewel
David Iacono as "Cam" Cameron
Belly and Steven's mom, Laurel (Jackie Chung) will likely also return, along with flashbacks — *sob!* — of Susannah (Rachel Blanchard). If Laurel's budding romance with fellow writer Cleveland Castillo (Alfredo Narciso) takes better hold in Season 2, he could become a series regular for Season 3. As for the kids' dads, John Conklin (Colin Ferguson) and Adam Fisher (Tom Everett Scott), it's hard to say. The fathers haven't exactly proven themselves to be the most present in their children's lives thus far.
Season 2 also saw a few new characters who've already been shaking things up: Kyra Sedgwick as Susannah's estranged sister Julia, and Elsie Fisher as Julia's child Skye. Depending on how this season's final episodes play out, Julia and Skye — or maybe even just Skye — could be coming around Cousins a lot more.
Is there a trailer or release date yet?
Nope, still too early. Plus, the ongoing WGA and SAG-AFTRA strikes may mean a longer wait since production will definitely be suspended until they reach a resolution.
Silver lining? Prime Video seems thrilled with the audience response to The Summer I Turned Pretty, even bumping up the next season by a few episodes. That bodes well for Belly and the gang! Now, we just have to hang tight to find out if Season 3 will take place at the Fishers' house in Cousins... or if they'll be saying goodbye to the house altogether.