math has never been so catchy
Third Grade Teacher Uses Taylor Swift Songs To Teach Her Kids
You will never count by eights in the same way again.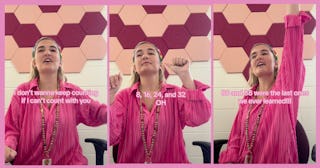 @mcpeekteaches/Instagram
The universe is in the grips of a complete Taylor Swift takeover — not even football is safe. But we aren't mad; bring it on. The latest place TayTay infiltrated? The math classroom. Earlier this month, Instagram creator and third grade teacher @mcpeekteaches shared a song that her class wrote in order to remember how to count by eights — to the tune of the bridge from "Cruel Summer" from the Lovers era.
In the video, the Swiftie and teacher leads her class in belting out their tune, dressed in pink and just as excited as the kids.
"We're in third grade and we're counting by eights — 8, 16, 24, and 32 — Oh," they sing in unison. "We are having fun, but we're learning too. I don't wanna keep count if I can't count with you — 40 turns to 48, 56, and 64. Seventy-two for whatever it's worth — 80 and 88 were the last ones we ever learned!"
They are being educated and having fun. It's the dream.
"Counting by 8, @taylorswift style 🌈," she captioned the post. "My students and I came up with this song and we had an absolute blast doing it!"
Down in the comments, everyone was loving the song and the teacher.
"POV: your teacher is a Swiftie," one person wrote.
"Thank you for actually teaching kids and not using just the iPad programs," another said.
"Bro we all got forced to memorize these by repeating it again and again and they just get to sing?"
"Cruel Summer (teachers version)," another quipped.
This isn't the only time that this teacher has used pop songs to teach her kids. They know their six table via "Castaway" by the Backyardigans. And Lizzo helps them learn to multiply by four.
There are also other Swiftie teachers out there using some of our favorite singles to teach the most boring aspects of rote math.
Sean Connolly, a teacher at Hanover Elementary School in Pennsylvania, has also built a social media following based on his pop-inspired math tunes — and Swift is one of his favorite artists to borrow from.
The best one is definitely all of his kids singing their version of "Anti-Hero" that teaches them to count by three.
For him, the payoff comes when people share his lessons with other teachers and kids, helping even more people learn.
"I think that's the coolest thing that's helping me with everything I'm doing," Connolly told a local news station. "Because I get comments every day like 'I wish you were my teacher,' 'I wish my teacher did this,' 'I'm showing this to my teacher,' and so on and so on. And I think that is something that is so cool to know what I'm doing is helping so many kids and I want to keep doing that."
Damn, it's really too bad we didn't grow up learning math in the time of Taylor.