Will Virgin River Return For Season 6? There's Drama Still To Unfold
The show's future has never looked brighter.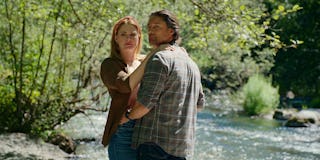 Courtesy of Netflix © 2023
If drama, pretty scenery, and epic romances are the key ingredients you look for in any good TV show, then odds are you're familiar with the widely popular Netflix series Virgin River. The first part of Season 5 hit the streaming platform on Sept. 7, with two Christmas episodes slated to debut later in the year on Nov. 30. And while some may think that's plenty of content to rifle through in the coming months, diehard viewers are undoubtedly already thinking about the show's future and whether or not Virgin River will return for a sixth season.
Based on Robyn Carr's novels of the same name, the story centers around the character of Mel Monroe (Alexandra Breckenridge), who decides to uproot her life in Los Angeles to become a midwife in the small, quiet town of Virgin River. But like most things in life, the troubles from your past have a funny way of catching up to you — no matter where you choose to live. It's a lesson that poor Mel has had to figure out the hard way. It's also what has left audiences captivated throughout the course of five seasons. And luckily, this show doesn't seem to be going anywhere anytime soon.
Has Virgin River been renewed?
Yes! Netflix announced the show's renewal back in May, way ahead of Season 5's debut, further proving just how much confidence the streamer has in the series' success. That's also why Netflix opted to up the number of episodes per season from 10 to 12 back in Season 4, indicating just how popular the show has become among viewers. This bodes well for the show's future, not just when it comes to Season 6 but also a potential Season 7 and beyond.
"I think we definitely see more longevity and growth with the show," Netflix's Head Of Drama Development Jinny Howe told Deadline in August 2022 when discussing Virgin River's success and hopeful future. "As long as the audience asks for it and shows up — and I think we see with Season 4 that the fandom is very strong and growing in many places as well — it feels like based on what we're seeing with Season 4 and the anticipation for Season 5 that there is a lot more storytelling to offer us."
So, basically, as long as Virgin River remains so popular, fans can expect to see this show continue to get picked up for new seasons time and time again.
Who's returning for Season 6?
At this time, it looks like all of the central players are set to return. This includes the title roles of Mel and Jack, played by Breckenridge and Martin Henderson, respectively. Then there's also Tim Matheson (Doc), Colin Lawrence (Preacher), Annette O'Toole (Hope), Zibby Allen (Brie), Sarah Dugdale (Lizzie), Benjamin Hollingsworth (Dan Brady), Mark Ghanimé (Cameron), Kai Bradbury (Denny), and Marco Grazzini (Mike) — all of whom are sure to make appearances throughout the season as well.
Nothing has been announced yet regarding any potential new cast members, though it's a little early for something like that. Those types of details will be unveiled when the season gets closer to airing.
When will Season 6 premiere?
Considering that the first part of Season 5 just got released and the final two episodes have yet to come out, it's difficult to know anything about a potential Season 6 release date. That being said, if past seasons are any indication, this show has a knack for debuting a new season every year. Season 1 came out in 2019, Season 2 in 2020, Season 3 in 2021, Season 4 in 2022, and now Season 5 debuted in 2023. If that pattern persists, it's very likely that fans can expect Season 6 to arrive sometime in 2024. Either way, it's sure to be worth the wait.