Whoopi Goldberg Is Writing A Superhero Film About A Black Woman
by Julie Scagell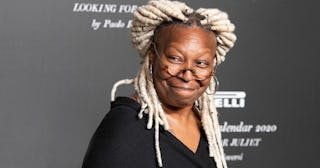 Marco Piraccini/Mondadori Portfolio/Getty
Whoopi Goldberg is writing a superhero film featuring an older Black woman
Whoopi Goldberg is many things — actor, director, TV show host — and will now be adding "writer of superhero film" to her impressive resume. Just don't expect a bunch of white men to be saving the earth this time.
The Ghost star, 65, recently told Variety that she's always been a fan of superheroes, so why not use her skills to write a movie about them. But this one is going to look a bit different than the Marvel and DC Comics-type heroes. Goldberg's centers around an older Black woman who gains superpowers and has to figure out how to use them.
"Since I was a little kid, I've been obsessed with superheroes. They're all saving the Earth all the time," she said during the interview. "But do you know who's really going to save the Earth? Old Black women."
If that's not enough good news to look forward to, it was recently announced that Goldberg will be reprising the role of Deloris Van Cartier in a third installment of the Sister Act movie franchise.
Goldberg will star again as Deloris Van Cartier, a lounge singer turned nun that generations have fallen in love with. The film is being made for Disney+ and if it's not enough that she's starring in the film, she's also set to produce it with Tyler Perry.
Per IMDb, the upcoming superhero movie will be Goldberg's first feature screenwriting credit. That's to go along with that fact that the actor is already an EGOT recipient, which means she's won an Emmy Award, Grammy Award, Academy Award, and a Tony Award. When she won the Oscar, it was the first for a Black woman in 50 years. Goldberg is also the first to host the Oscars solo, and she's done it four times — emceeing the show in 1994, 1996, 1999, and 2002.
If you're used to getting a daily dose of her on The View, you'll be pleased to know Goldberg is staying on indefinitely: "I'm there until I don't think I can do it anymore, but I'm not there yet," she said. "As long as they allow me to do both [acting and hosting], I can do it. The minute they say, 'No, you can't,' then I have to figure out what to do."
Fans of superhero movies should be on the edge of their seats knowing Goldberg's quick wit and ability to tell a story. One can only imagine the one-liners in her upcoming film and at the center of this story will be a strong, Black female role model — something Goldberg has been to millions of women over her 40-year career.