Kelly Clarkson Revealed Why She Moved Her Talk Show Across The Country
"I gotta make a change..."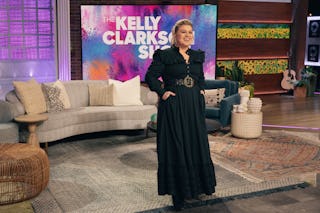 NBC/NBCUniversal/Getty Images
Last month, NBC revealed that production and filming of The Kelly Clarkson Show would be moving from Los Angeles to New York City.
While mum was the word on how the show's host and Grammy Award-winning singer Kelly Clarkson felt about the cross-country move, fans suspected there had to be some personal reasoning behind the big change.
The "Since U Been Gone" singer finally gave a bit more insight into why she decided to change her show's production location during a recent interview with Nancy O'Dell on TalkShopLive.
Clarkson said she had an emotional conversation with her crew back in the beginning of the year about her desire to relocate the successful daytime talk show to NYC. She told her crew that she either needed to move out of L.A. or the show needed to stop for good.
"I have built such an amazing group of people. Obviously, we've been very successful and I love everybody I work with and we have such great relationships," she said.
"So I talked to them because I was like, 'Guys, I need you to know what's happening. It's either I'm not going to be able to continue with the show or I got to go East Coast.'"
Clarkson explained that during the COVID-19 pandemic she felt "isolated" and distanced from her family.
"That's not good for anyone and my family's east coast," she said. "They're North Carolina-based, so it was one of those things where I just had to, you know, also there was a lot of personal things going on, too, where I feel like our family, me and my kids really needed a fresh start and I just could not get it here [in Los Angeles]."
Just a few months into the pandemic, Clarkson filed for divorce from now ex-husband Brandon Blackstock after almost seven years of marriage. The pair share custody of their two children, daughter River Rose, 8, and son Remington, 7.
As for the brains behind the big move, Clarkson admits that was "100 percent [her] idea," adding that she's had "such a great experience with all these people and these relationships and it kind of sucks to uproot it and move it."
"I was like, 'Y'all I love doing this show. I really do.' I didn't even know I would, but I was like, 'I gotta make a change for me and my family,'" she said.
"I was like, 'So any chance we can maybe do this, I know we can't do this from my ranch, so any chance we can do it in New York, which is at least closer to my family. 'Cause they're like an hour flight away, so that was really the main reason," she added.
Clarkson also added that the move had more perks than just being closer to family, adding that she has some new projects in the works that could only work on the east coast.
"I never thought I'd get a chance to do anything (for Broadway)," she said, adding that she is "writing something for Broadway."
"I don't like acting in movies and TV, but I do love stage stuff," she said.
Before Clarkson becomes a New York transplant, she'll headline a 10-night Las Vegas residency called "Chemistry: An Intimate Evening with Kelly Clarkson" that will coincide with her upcoming album of the same name. Clarkson says the album is about "the arc of an entire relationship."
Though there is no premiere date for the next season of the show, the series was renewed through 2025.