Yellowstone To End After Season 5, Promising Lots of Drama This Fall
Show creator Taylor Sheridan previously hinted the end is near.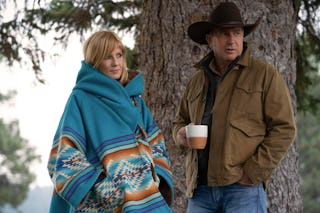 Scoot over Bachelor franchise; Yellowstone is now the face of American cable TV. There's more than enough drama (and unresolved issues) to go around at Dutton Ranch and the neighboring town. Couple that with the breathtaking vistas of Montana, and you've got yourself a hit show. A horse galloping across the plains with Kevin Costner dressed as a rancher in the saddle may also have something to do with it, but that's neither here nor there. As fans gear up for the Season 5 premiere on Nov. 13, many were wondering how long they'd have to wait for Yellowstone Season 6 — but the word is out. Season 5 will be the last for Yellowstone.
With each new installment, the Western drama series has continued to surpass its ratings records — Season 4 saw an increase of 2.3 million views from premiere to finale. According to Collider, Yellowstone is officially the most-watched cable TV series since the Season 8 premiere of The Walking Dead. But are you surprised? You may very well be one of the millions who put their kids to bed, pour yourself a "double Tito's" martini a la Beth Dutton, and curl up for some good old-fashioned family drama (with a side of the scene American West).
So, is Season 5 really the end of this already iconic series? Here's everything we know about the franchise's future.
When will Yellowstone Season 5 premiere and end?
The first half of Yellowstone Season 5 premiered in the fall of 2022, wrapping with a mid-season finale on Jan. 1, 2023. Initially, the series teased a summer drop for the remaining episodes in this super-sized 14-episode season. But cue the drama, because the final episodes have been pushed to November 2023... and rumors of tension and delays on set due to series star Kevin Costner abound.
Are there any second-half details yet?
Not much has been said, yet, about the remainder of Yellowstone's final season, other than it being the last season of the show. The lengthy span of episodes ought to give plenty of time for the Duttons to wrap up all their business and collective drama, though.
One of the show's stars, Luke Grimes, who plays Kayce Dutton, recently shared that the fighting will continue through the series' end. "That's sort of where you get all of this really juicy drama, is that everyone is sort of fighting for their team," Grimes told Entertainment Tonight. "There's no right team or wrong team, it's just a bunch of people trying to figure out how to do what's best for their own."
Is Kevin Costner returning for the final episodes?
"I know how the series ends, and you have to move in a straight line toward that end. You can't walk in circles, waiting to get there, because the show will stagnate," show creator Taylor Sheridan told Deadline in 2020. "So, you have to keep moving forward, and there have to be consequences in the world, and there has to be an evolution toward a conclusion."
He was certainly hinting that the end was near. Needless to say, there have been a ton of holdups in filming — some related to COVID and some related to other issues, all of which appear to have left a bad taste in the mouth of lead actor Kevin Costner, according to Us Weekly.
When previously asked if Costner would be returning, Paramount's generic response left more questions than answers: "Kevin Costner is a big part of Yellowstone and we hope that's the case for a long time to come."
Although Costner will presumably appear in the series' final episodes, it has already been confirmed that he would not appear in a Season 6 if one had been greenlit.
So, that's it for the Yellowstone universe then?
Absolutely not. Fans of the franchise have plenty to look forward to, like a confirmed spinoff starring none other than beloved Texan Matthew McConaughey. Even more enticing? The McConaughey spinoff is just one of more than 10 projects Paramount Network has in the works with Sheridan.
The limited prequel series 1883, which co-starred husband and wife team Tim McGraw and Faith Hill (along with the always amazing Sam Elliott), reportedly could get additional episodes at some point. And the follow-up prequel, 1923, starring Helen Mirren and Harrison Ford, will get a second season.
Limited series set in the '40s and '60s are also reportedly in talks of being developed, along with a spin-off titled 6666 after the Four Sixes Ranch in Texas. Fans will recognize that as the location ranch hand Jimmy Hurdstrom was sent to "cowboy up" — and where he met and fell in love with his fiancee.
Will Yellowstone fans still tune in to watch the Duttons squabble to survive and thrive in the ranching business... even without Costner or the promise of more content on the way? Probably. But only time will tell.
This article was originally published on