People Are Getting 'Ew David' License Plates In Honor Of 'Schitt's Creek'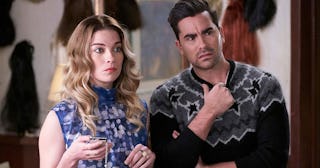 CBC
"Ew David" vanity license plates are popping up all over North America in honor of Schitt's Creek
Schitt's Creek fans are loyal. But we didn't know they were like, wait in line at the DMV loyal. If you haven't watched Schitt's Creek yet (what are you waiting for?), it started as this silly little Canadian sitcom about a rich family that loses everything and has to move to a town called Schitt's Creek that they bought as a joke. Then, Netflix got ahold of the show and BAM, suddenly it was all anyone could talk about. Now, superfans are getting vanity license plates that read "Ew, David" in honor of Alexis' favorite catchphrase, which she'll utter in the direction of her brother David when he does, well anything.
The official Schitt's Creek Twitter pointed out that this phenomenon was happening and started tracking "EWDAVID" license plates in real-time as they popped up around North America.
"It is wild that, as far as we can tell, people in 22 provinces, territories and states in North America have some kind of #ewdavid license plate," the show tweeted. "You are an amazing bunch. We'll update this map as and when we see more…"
The count is now up to 34, meaning "EWDAVID" license plates have been spotted in 34 states, territories, or provinces. People have this license plate in Alaska, y'all!
Naturally, when we saw this tweet, we were like, "prove it" and they did. The good fans of Schitt's Creek came through, sharing their own license plates or ones spotted out in the wild.
Annie Murphy, who plays Alexis and popularized the phrase, simply wrote "What on earth" when she saw the license plates while Dan Levy, aka David and the creator of the show, tweeted: "I'm so sorry, North America," and then later wrote, "this is wild."
As for our favorite television family, Schitt's Creek will bow out at the end of Season 6, which is currently airing on PopTV. We know most people discovered the show on Netflix, but at this time, the Netflix air date for the final season is currently unknown.
https://www.instagram.com/p/B7aONSXJKJ5/
Though if you're jonesing for some more Schitt's Creek, Levy noted on Instagram that you can stream the show on the PopTV app if you really can't wait for that Netflix drop.
https://www.instagram.com/p/B7BsW2JpfCn/
Would you deal with the DMV to make your Schitt's Creek love official?
This article was originally published on