18 Fall Baby Names That Go Beyond 'Autumn'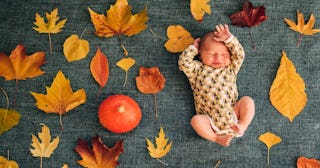 Westend61/Getty Images
Ah, fall. For some of us, the sight of the first leaves swirling to the ground makes us near-giddy with excitement. We're over the boob sweat and thigh chafe that is summer, and we can't wait for cozy sweaters and cute scarves to drape us in comfort. Okaaay, and to disguise the effects of all the soup and baked goods we plan to inhale. Because, hello, the comfort food is just another perk of fall.
If your September, October, or November is going to include a brand-new baby, you've got an even better incentive to celebrate this beautiful season. So why not commemorate the joy year-round by giving your little pumpkin an autumn baby name? We've raked up a big pile of our very favorites, so jump on in and find the perfect baby name to pay tribute to everything we love about fall.
Cooler evenings mean snuggling up in front of a fireplace, and tendrils of bonfire smoke floating through the crisp night air. Though it sounds a lot like Amber (which is another great fall possibility, given its warm hue), the name Ember could be great for any gender. And it calls to mind the crackling, smoldering fires we can't wait to gather around.
Fall is the apple harvesting season, when orchards are laden with ripe, juicy fruit that — with luck — are transformed into ciders and ales and delicious pies. Gwyneth Paltrow named her daughter Apple, so maybe she's into fall too.
These bright flowers in autumnal hues bloom in late summer and early fall. Not only does this name tie in with the current trend of botanical and nature baby names, it also lends itself to some cute nicknames … like the adorable Goldie.
Speaking of gold, it's a color that's traditionally symbolic of fall, like the sunsets glowing off the vibrant yellow leaves. And while outwardly, Orla doesn't seem as directly gold-related as, say, Goldie, it actually has an awesome meaning: "golden princess."
Another name that pays homage to the jaw-dropping colors of fall foliage, this time the bright crimson red that stands out among the paler leaves. (This is also a great alternative to the super-popular Charlotte.) If Scarlet's not your cup of tea (um, cider?) but you love "red" names, you might consider Ruby or Garnet.
This name probably calls to mind "Sleeping Beauty," whose name (at least in the Disney version) was Princess Aurora. So why is this the perfect name for fall? Because the aurora borealis, a.k.a. the Northern Lights, are at their highest, most dazzling visibility during this time of year.
Autumn is when our thoughts turn to the yumminess coming out of kitchens everywhere. Spice cakes, pumpkin muffins, gingerbread … we could go on, but you get the point. Ginger, cinnamon, and cloves are the stars of beloved fall recipes, so you can see why this classic name made the list.
(RELATED: 21 Foodie Baby Names Fresh From The Kitchen)
The birthstone of November babies, this precious gem comes in all kinds of colors, but the intense golden, orange, and red varieties are especially suitable for fall. Wearing a topaz stone is said to help the bearer balance emotions and live a harmonious life.
Any tree dressed in its autumn foliage is glorious, but the sugar maple tree is one of the most breathtaking and diverse — going from green, to yellow, to orange, and finally to a deep red. (And its sap can be made into maple sugar. 'Nuff said.) In a time when old-fashioned names like Mabel are becoming more commonplace, Maple is a sweet-sounding alternative.
The raven has long been associated with the autumn season, as the legends behind it are perfect for Halloween lore. Ravens were thought by many ancient cultures to be the incarnations of spirits, and of course are most known for being the bird who quoted "Nevermore" in Edgar Allan Poe's famous poem. But! They were also considered to be the messengers of the gods, and in real life, ravens are among the smartest animals, ranking right up there with chimpanzees and dolphins.
This adorable unisex baby name is perfect in so many ways. It's easy to spell, nobody will ever mispronounce it, and it can be a standalone or a diminutive of longer names like Asher, Ashton, Ashley, or Ashlynn. In autumn, ash trees are another variety that boast stunning foliage, and Ash also fits in right alongside Ember, Cinder, and Blaze as names reminiscent of those seasonal bonfires we love so much.
People name their kids things like January and June and August all the time, but for some reason the fall months don't get as much baby-naming love. But we say If you're put off by using the entire month name on a day-to-day basis, why not opt for the cute nicknames Toby or Obie — or use the name November, and go with Nova, Novie, or Ember!
It's not hard to see why this one makes the list: it's perfect for a little one born around the season of Halloween, without being a sinister-sounding or creepy baby name. The word Halloween comes from All Hallows' Eve, and "hallowed" means something holy or sacred. With the current popularity of names like Fallon and Harlow, this one hits the sweet spot of both on-trend and unique.
There's no better place to find beauty and serenity than a forest, especially in autumn, when the colors are blazing — it's why "leaf-peeping" is a thing. Forrest could be a subtle tribute for your fall-born baby.
For bow-hunting aficionados, fall is prime season. (You could also use Hunter, if that's your thing.) And if your baby is born in late November, he'll fall under the sign of Sagittarius, whose symbol is the Archer: a half-man, half-horse wielding — you guessed it — a bow. This is also a great way to get you to the nickname Archie, which is hot right now thanks to a certain royal baby.
(RELATED: 14 Regal Names You Don't Have To Be Royalty To Use)
The reasons behind this being a fall baby name choice are twofold. First, it brings to mind the word "crisp," which is obviously the best way to describe the brisk coolness of the air in autumn. Secondly, Crispin is a variety of apple, and everyone knows apples and fall go hand-in-hand (or apple-in-dessert). Fun fact: Crispin could also be a super-subtle way to honor Japanese heritage, as the Crispin apple variety originated in Japan.
Jack just seems like the perfect rugged fall baby name, doesn't it?! Lumberjack flannels, jack-o-lanterns, Jack Frost preparing to nip at your nose. It's a classic that never goes out of style, but it feels especially suited for an autumn baby.
This name is easily recognizable to "Game of Thrones" fans as the name of the valiant, beloved Ser Jorah Mormont. It also fits in with the sound of popular Biblical names like Jonah and Noah. But the coolest thing about it — and the feature that lands it on this list of fall baby names — is that it comes from the Hebrew word "yoreh," which means "autumn rain." You could also knock off the "h" and spell it Jora. Either way, it could be used for a boy or a girl.
(RELATED: Check out our picks for the most "wearable" Game of Thrones baby names)
There are so many reasons to love autumn, especially when a new baby is involved. So grab a PSL and your favorite cardigan, and cozy up to a baby name that'll give you year-round fall feels.
No matter what season your baby's birth "falls" under, you'll find the perfect name in Scary Mommy's baby name database!
This article was originally published on