5 Famous Magicians That Will Add a Little Magic to Your Everyday Life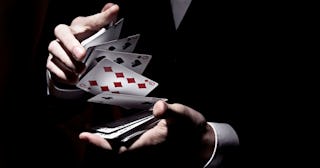 Christopher Grigat/Getty Images
Do you believe in magic? In a young girl's heart… Are you singing along in your head? Tapping your foot to the beat? Mayyyyybbbeeeee that's just us. Either way, magic makes for such a fun conversation topic. It's something that appeals to the kid in all of us and probably your actual kids, too. Inherently intriguing, the unexplainable has a way of drawing us all in. The thing is, magic is an underrated art form that doesn't get nearly enough recognition. That changes today — at least here because we're gonna give accolades to a few famous magicians in history.
Some names you'll recognize, some you may not. But by the time you're done reading this post, you're gonna have a whole slew of interesting facts about some of the great magicians of the world. And that, Mama, should give you street cred with your kids and talking points at your next social(ly distanced) event.
Five Famous Magicians
1. David Copperfield
Born in 1956, David Copperfield is easily one of the most famous magicians of our time. He's known for a variety of performance types, including illusion, manipulation, and close-up magic. This makes him incredibly versatile — with unparalleled talent. In recent years, he's been seen on Brain Games, a Nat Geo series that focuses on psychological experiments, illusions, and good ol' brain trickery.
2. Harry Houdini
American-Hungarian illusionist Harry Houdini was first discovered while performing vaudeville in the United States. Then, he garnered attention in Europe as Harry "Handcuff" Houdini on a tour where he challenged authorities to keep him locked up. Soon after, he became a household name for his death-defying stunts that kept viewers on the edge of their seats. His stunts, involving a heavy dose of sleight-of-hand, also came with incredible risk. A mystery to his dying day, Harry Houdini reportedly passed away on Halloween in 1946 due to an infection caused by a ruptured appendix. Skeptics have challenged this fact over the years, and many questions about his death still remain unanswered.
3. David Blaine
Another name made famous in recent years, David Blaine is an illusionist known for his high-profile feats of endurance. This charismatic performer has set and broken many world records among the world's most famous magicians. Some of his most shocking stunts include holding his breath for 17 minutes, fasting for 44 days, and standing atop a hundred-foot pillar for 35 hours. David Blaine's most epic performances can be seen in various television specials he's appeared in over the last 25 years.
4. Teller
Teller is one half of the comedy-magic duo Penn & Teller. He is a multi-talented man who writes, paints, acts, and even directs — along with performing magic, of course. Teller is known for his signature silence during a show, adding an air of mystery to an already remarkable performance. Penn and Teller's hit show, Fool Us, is making waves with magicians everywhere because it makes magic more mainstream for the masses. But not everyone loves the new ground-floor look at this enigmatic form of art. Some seasoned magicians hold steadfast to the idea that "a magician never reveals their secrets." Despite its critics, though, Fool Us has earned many fans for the widespread notoriety it brings to this curious world of wonders.
5. Harry Blackstone Sr.
Born Harry Boughton, Harry Blackstone Sr. lived from Sept. 27, 1885, to Nov. 16, 1965. Another legend among famous magicians, Harry Blackstone Sr. started young, beginning his career in his teens. He was famous throughout World War II as a United Service Organizations entertainer. Dubbed "The Great Blackstone," the beloved magician also published several books ghostwritten by Walter B. Gibson — including a comic book called Blackstone the Magic Detective. A marvelous talent, Blackstone Sr. continued to astonish viewers with his extraordinary skills on TV and stage appearances throughout his golden years in Hollywood.
Magicians Who Died While Performing
Being a magician looks like a lot of fun, but it can be a dangerous gig depending on the tricks you do. Here are several magicians who bit the dust in the line of duty.
William Ellsworth Robinson
William Ellsworth Robinson died during his bullet-catching trick. His stage name was Chung Ling Soo and performed in yellowface. During his horribly racist act, he used a gun with two barrels — one had a real bullet while the other had a blank. Robinson never cleaned his weapon for the performance, and the gunpowder eventually built up in the chamber. The day he fatally shot himself, the blank had accumulated so much powder it exploded and fired the real bullet into the second chamber. The round pierced his lung.
Washington Irving Bishop
The death of Washington Irving Bishop is a bit open-ended. He suffered from cataleptic fits, which put him in catatonic states, making him appear dead. Bishop could pass out at any moment and even kept a note in his pocket explaining his condition, that he probably wasn't dead. When he passed out a second time during a performance at The Lambs Club in New York City, they declared him deceased. Physicians performed an autopsy a few hours later, during which his skull was sliced open, and they removed his brain. Some believed he was only in a trance-like state, while others felt the autopsy had killed him.
Charles Rowen
Charles Rowen was also called "Karr the Magician" or "Karr the Mysterious." He was a South African escape artist and did most of his tricks in straight jackets. While performing in South Africa, he was in a straight jacket and was supposed to get out of the coat and car's path before it hit him. The vehicle was going at 45 miles per hour and was only 200 yards away. Sadly, Rowen didn't move fast enough and was run over. Before he died, he absolved the driver of any wrongdoing.
Quotes by Famous Magicians
Now that you know a few of the magical greats, check out some of their marvelous words of wisdom. Besides their tricks, you can learn a lot from a magician.
"It is the unspoken ethic of all magicians to not reveal the secrets." — David Copperfield
"The easiest way to attract a crowd is to let it be known that at a given time and a given place someone is going to attempt something, that in the event of failure, will mean sudden death." — Harry Houdini
"Nothing must be left to chance in a magical performance. Everything conducive to enhancing the mystery of the illusions must be arranged with painstaking care and thought." — David Devant
"Magicians will always tell you the trick is the most important thing, but I'm more interested in telling a story." — Marco Tempest
"Magic is the only honest profession. A magician promises to deceive you, and he does." — Karl Germain
This article was originally published on