20 Trends We Wish Would Make A Comeback Right Now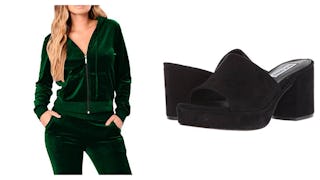 AMAZON.COM
The fun thing about fashion is most looks always make a comeback every few decades. We are seeing it now with overalls, boyfriend sweaters, and Vans being worn by all ages.
But many of us have requests for styles that just aren't coming back into fashion. We may desperately want to sport the look again, but we want validation that it's okay to wear things again by seeing others do it first.
Then again, who cares if it's okay — we can rock whatever look we want! That said, here are 21 looks we want to see take another spin:
1. White Keds
Pairing a pair of white Keds with anything from our favorite cut-offs to a cute skirt instantly transformed us into Baby from Dirty Dancing.
2. Legwarmers
Leg warmers were an easy way to give your outfit some personality and it was the one thing we didn't mind our Grandmother knitting for us. And no, they weren't just for working out.
3. Mullets
We all miss this even if we don't want to admit it. The mullet was easy to maintain and a great way to show all the different sides of you. You hair stayed out of your face, yet people were able to display their beautiful locks cascading down their backs.
4. Steve Madden Slipons
These shoes were everything. In fact, I don't think I know one woman who didn't own these. If seeing a pair doesn't make you feel nostalgia and take you back to a simpler time, we cannot be friends.
5. Sweater Sets
How many of you went into a tizzy when you saw a neatly folded table of sweater sets at The Limited Express? I'd lose my mind and feel compelled to get every color. They were so versatile — you could wear the sweater tank alone or with the button-down cardigan. You could wear the cardigan alone, or with a button-down under it. You could mix and match the colors. You could wear the sweater tank with the sweater draped over your shoulders — the possibilities were endless.
6. Shoulder Pads
Who doesn't love a strong shoulder? I remember buying sets of shoulder pads to go under my bra straps because in the '80s you didn't leave home without them. These fuckers went under every sweater, every t-shirt, and every jacket. Supposedly they tricked the eye to make your waist appear smaller, and we all had collections of shoulders pads stuffed in our underwear drawer.
7. Spiral Perms
How convenient to get a spiral perm and not have to work for an hour every morning to get your damn beach waves right. With one very expensive chemical treatment, you could have cork screw curls for months.
8. Oversized Jackets With Ties
An oversized suit jacket with a tie and your favorite jeans is such a smart look anyone can pull off. My friends and I used to peruse the racks of thrift shops and our father's closet in high school looking for the perfect houndstooth or corduroy blazer and tie — so Diane Keaton.
9. Baggy Clothing
A lot of things are very fitted these days. We've got the skinny jeans, suits have more of a tailored look, and t-shirts are now made to show off our bulging assets. There's a reason why we strip all that nonsense off as soon as we come in the door — tight-fitting clothes makes you feel bitchy. We miss the oversized-everything look.
10. Jams
The length, the wild floral prints, the oversized pockets — Jams had it all. And when worn with a matching shirt and florescent sunglasses, you know you felt unstoppable.
11. Stirrup Pants
These puppies made boot-wearing a breeze. If only these would come back into fashion, it would be so much easier to keep our pants in place and we wouldn't have to worry about jeans creeping up our calves when sitting down.
12. Velcro Shoes
Life was so easy when all we had to do we slip on our kicks and Velcro them shut. Sometimes we got creative and did a little crisscross action.
13. Sturdy MaryJanes
What happened to these shoes? They are practical, they are comfortable, and they grip the ground like nobody's business. Plus, they're the cutest with little socks and skirts.
14. Big Hair
Now, everyone is trying to tame or flatten their hair that wants to be horizontal instead of vertical. There are exactly one million flat irons to choose from, flat iron spray, and a shit-ton of ways to de- frizz and tame your mane. I miss the days when it was acceptable to walk around looking like you put your finger in a light socket. It was so much easier to tip my head upside down, plaster with gel/mousse/spray, scrunch, give the bangs a big upward curl, and go.
15. Velour Jumpsuits
These were amaze and I wore these colorful, squishy suits before, during, and after each of my pregnancies. You were casual and comfortable and looked pulled together simply because you were wearing all one color and material. Also, you could go from day to night in these suits of leisure by trading in your flip-flops or sneakers for a pair of heels.
16. Swatch Watches
My Swatch Watch collection from the '80s was on point. And the best part about these watches was you didn't just wear one watch at a time. You wore as many as your wrist could handle. Three to four usually gave you the look you were going for — which apparently was always knowing exactly what time it was.
17. Big-Ass Hair Bows
How satisfying was it to Aqua Net the shit out of your hair, throw in a big bow and call it a day? It was most definitely a look, and whether you had a big velvet clip on or would tie one on yourself with a hair scarf, you were in vogue.
18. Timberland Boots With Heels
How glorious to be able to walk down the street in your shit-kickers to show you can chop wood with the best of them, yet that heel in the back gives your legs a little boost and makes you feel hella sexy.
19. Rugby Shirts
A rugby shirt looks great with jeans, sweatpants, and your favorite skirt. They are part dressy because of that formal collar while being sporty. If you were in doubt about how dressy an event would be, a rugby shirt (especially your Benetton rugby shirt) never let you down.
20. Tretorns
These were the sneakers to have in the '80s and early '90s. They were the cutest white sneakers and the Tretorn symbol came in different colors or plaid. I recently spotted a pair on Amazon and had to have them — I'm not above buying something for myself because I had the same thing in 6th grade. It's okay to nurture your inner child through footwear if you need to.
I have always been on team "Wear Whatever The Hell You Want," so I say, if you love it, bring it back in style your own damn self — and if it never catches on, at least you are feelin' fine.
This article was originally published on