Mom With OnlyFans Banned From Volunteering At Her Kids' School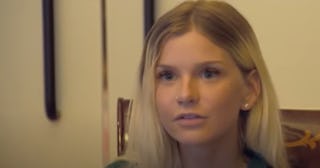 (Wesh 2 News)
A Florida mother who has spent the last five years volunteering at her children's school has been banned from donating her time after the school district received an anonymous tip that she has an OnlyFans page
Up until a couple weeks ago, Victoria Triece, a 30-year-old mother of two, loved volunteering her time at her children's school, Sand Lake Elementary. She helped plan class parties for both her 10-year-old and five-year-old's grades, and she also spent time assisting during lab assignments for her older son's class. But on October 13, Triece learned that she was removed from Orange County Public Schools' ADDition volunteer program. The reason? An anonymous parent sent school administrators evidence of Triece's OnlyFans, an adults-only subscription site.
Before diving in, let's get a few things straight: sex work is real work and not a shameful profession. Just because someone does sex work does not mean that they are not safe to be around children, or that they are going to introduce kids to sexual concepts or unsafe situations. Seriously, think about it: have you ever been worried that a parent who is also a construction worker is going to let your kids play with dangerous tools just because their job involves said tools? Probably not, which means there is no reason that someone who does sex work can also be a loving mom who safely and responsibly volunteers her time — which has probably been freed up because of said sex work.
"She understands that there's going to be a percentage of parents who are going to be get up into their moral arms and wag their discriminating finger at her and say, 'We don't want you around our children,'" Mark NeJame, one of Triece's lawyers, told Orlando Sentinel. "Well, they wouldn't have known about it because she kept it away from the children. You can't access her unless you're an adult." They plan to sue the school district for $1 million.
"It affected a parent who went and paid to see my content, but then they had to go send in these photos of me to the school and make me not be allowed to be around children anymore, which I've done and dedicated my life to for pretty much five years'" Triece told reporters. So, in plain terms, Triece was let go from the volunteer program simply because someone was uncomfortable with the idea of sex work.
According to Triece's lawyers, she never received any official documentation citing a reason for her dismissal from the volunteer program
Triece was not given any reason for her dismissal. The guidelines for ADDition volunteers don't explicitly dictate what volunteers can and cannot do when they are not on campus. The only thing volunteers have to do is pass a drug test and background check, both of which Triece has done throughout her volunteer career.
"I don't know who was told what I do. And now I'm supposed to walk into the building and I don't know what was said to my son's teacher … I don't know what's been said about me to anyone at that school." Fortunately, Triece has received some support from fellow parents. We hope that others in her community follow suit. She is a working mom, and she shouldn't be punished for that. Plain and simple.