America Might Run Out Of Fries, Because We Don't Have Enough Sh*t To Worry About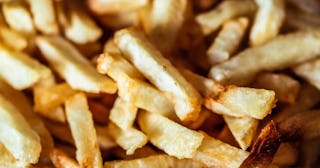 Khanh Ngo Photography/Getty
French fry demand is apparently peaking, but crop probs like frost damage could mean — brace yourself — fewer fries to go around
It's not as though there's any shortage of things to stress about these days. Yet, now, we can add an actual shortage to the list: a shortage of French fries. That's right; there's a fry-pocalypse looming. We hate to be the ones to burst your crispy-on-the-outside, fluffy on the inside, perfectly salted bubble by telling you this. But if we learned anything from watching Stranger Things, it's that friends don't lie.
Granted, the situation sounds like the storyline of a made-for-TV movie. However, it has some real-life gravitas, especially for farmers. According to Bloomberg, North American potato crops suffered a particularly damaging spell of cold, wet weather recently that effectively K.O.'ed some of the key potato producers in the U.S. and Canada.
After being pelted with snow and rain, growers in Manitoba, North Dakota and Minnesota were forced to pack up and peel out (potato pun intended and used with an appropriate level of self-flagellation). In a tragically ironic twist, though, Canada's fry-processing capacity has grown, leading to a surge in demand for the fried rectangles of perfection.
"French fry demand has just been outstanding lately, and so supplies can't meet the demand," Travis Blacker, the industry-relations director with the Idaho Potato Commission, told Bloomberg in a phone interview. That tracks, considering both the United Potato Growers of Canada and the U.S. Department of Agriculture estimate potato output will take a big hit this year.
Don't rush out and start hoarding French fries like a carb-loading doomsdayer just yet, though. Potato processors are doin' the damn thing behind the scenes, playing a giant game of Tetris with the viable crops to make everything go where it needs to go. "It's a manageable situation," Kevin MacIsaac, general manager of the United Potato Growers of Canada, said in a phone interview. "Potatoes are going to have to move from one channel to another that they sometimes don't move in a normal year."
This is basically the same thing White Claw's senior vice president of marketing, Sanjiv Gajiwala, said when the beloved hard seltzer faced a shortage in September. Per Gajiwala, the company was "allocating product to our distributor partners to keep all markets in stock the best we can and will continue to do so until we get back to our normal safety stock position." See? You say potato, they say poolside-buzz-beverage-of-choice. But the situation sounds the same and, hey, we're back to swigging the good stuff already.
French fries will survive to see another year of mass consumption. Still, we're hoping the rebound will be sooner rather than later. We can live without a white Christmas, but a fry-less Christmas? That's sacrilege. Those little slivers of salted goodness keep us sane during the season of in-laws and judgmental relatives.