Freshly Picked Is Releasing 'Toy Story' Baby Moccasins And OMG, They're So Cute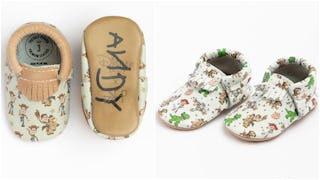 Image via Freshly Picked
These adorable Freshly Picked moccasins will get your little one stylin' for the release of Toy Story 4
We'll admit it: We're excited AF for Toy Story 4 to come out this summer. Like, there are a lot of reasons to count down the days til summer arrives, but this dang movie has us more excited that sunshine, barbecues, pool parties and pretty much every other awesome thing that comes with the warmer months. If you need a refresher on why we can't wait, check out the full-length trailer. Go ahead. We'll wait.
RELATED: Best Disney Toys To Keep Kids Living Their Most Magical Lives Right At Home
And we're not the only ones who are already planning to be first in line when the movie hits theaters. Little ones are expected to be as bonkers for this installment of the Toy Story series as they were for the previous three. They're going to be obsessed with all things Disney, Pixar and Toy Story all summer, so you may as well just embrace it now. And what better way than by outfitting them with one of the cutest Disney clothing collabs we have ever laid our eyes upon?
Freshly Picked, maker of adorable, soft-soled baby moccasins, has teamed up with Disney to create a whole line of tiny baby booties to celebrate the upcoming summer of Toy Story. They feature Woody, Buzz, Jessie, Bo Peep and the rest of Andy's gang of toys, and trust us when we say you're going to want to order all five pairs.
Check out the Buzz Lightyear pair, for example. They feature Buzz's iconic tagline, "To Infinity, And Beyond," and they just look comfy as heck to boot (get it? To boot?).
For the little Disney fan in your life who's more interested in the leading ladies of the movies, how about this sweet pink pair, adorned with tiny boys and featuring Little Bo Peep?
Or a pair with a sweet motif of Woody's leading lady, the rootinest, tootinest cowgirl in the whole Wild West, Jessie?
Choosing a favorite character out of a cast of icons can be tough, we know. Luckily, Freshly Picked anticipated that and gave us the option of a pair of adorable, fringed moccasins that feature a bunch of different character from the movie, including Slinky Dog, Rex and Ham.
And while all these moccasins are obviously adorbs, they do not even touch on the cuteness of the piece de resistance of the line: The pair featuring Woody, complete with "Andy" written in the iconic child's scrawl on the sole. Excuse us while we die from the cuteness for just one moment.
All the pairs come in infant sizes one through seven, and they're currently available for pre-order for $60 a pair.
If, for some reason, Toy Story isn't your thing, Freshly Picked also has a bunch of other Disney collabs, though some of the more popular prints, like the princesses, are sold out.
With Disney's live-action remakes of Aladdin and The Lion King also coming this summer, you now have no excuse not to deck your kid out in these adorable moccasins to celebrate. The summer of Disney is coming, and you best be ready for it.
This article was originally published on