A 'Friends' Cast Reunion Made The Emmys A Little More Magical
by Valerie Williams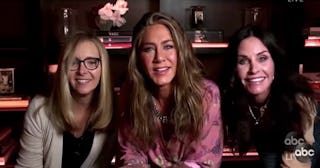 YouTube/ABC
Rachel, Monica, and Phoebe can make anything better including the Emmys
I can't be the only one retreating to my 1990s childhood in an effort to allow nostalgia to take away some of the sting of this garbage fire of a year. The ladies of Friends must understand where we're at mentally these days and decided to make our day, our week, our month, and yes, probably our year, with a delightful reunion as part of last night's socially-distanced Emmy Awards. Guys, I needed this — and I'm sure y'all did too.
So Jennifer Aniston helped Emmy host Jimmy Kimmel get the COVID-friendly virtual show underway before returning home where he later checked in on her via video call. And guess who she was hanging out with? MONICA.
"Oh! Courteney Cox," Kimmel exclaimed. "Courteney's there?" To which Cox quipped, "Of course I'm here, we live together." Aniston chimed in, "Uh yeah, we've been roommates since 1994, Jimmy."
Every single Friends fanatic right now be like:
Happily, it didn't end there.
Lisa Kudrow comes strolling in saying, "Oh, is this live TV?" OMG our 1994 dream is coming true, they really DO all live together and are BFF.
"Unbelievable," Kimmel said. "Lisa Kudrow, you live there too?" She replies, "Where else would I live?" and like, that's truly what we needed to hear — that our three favorite 90s roommates are still roommates. It's the bit of nostalgic humor 2020 needs.
This adorableness also included an appearance by Jason Bateman, who was kicked out of Staples Center during an earlier bit with Kimmel, and it was cute, but let's face it — we are here for Monica, Rachel, and Phoebe.
They must know how much we crave seeing them together because Aniston took to Instagram over the summer to share a video of herself playing pool with Cox — and getting her butt kicked in the process.
https://www.instagram.com/p/CEH2Ca4DX0o/
And remember last year when the WHOLE gang was back together and hanging out partying as though it was actually 1999? Seeing the three women last night was wonderful but the entire cast would've been a nice balm to soothe our 2020 wounds.
Hopefully the 2021 awards will be more like the ones we're used to and all six of our favorite NYC roomies can get together to delight our 90s kid hearts.