'Friends' Reunion Director Shares Trash Take On Special's Lack Of Diversity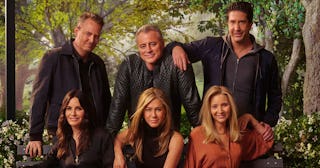 HBO Max
Ben Winston, who directed the Friends reunion, has brushed off criticism of the special's lack of diversity
You don't need us to tell you the many ways Friends — however beloved it may be — doesn't hold up particularly well. The hit series is rife with issues, from frequent jokes rooted in rampant homophobia and transphobia to Fat Monica existing solely as an awful caricature of fat women and, of course, a complete lack of diversity in every way, shape, and form.
If fans tuned in to the Friends reunion special last month hoping that the show's stars and/or creators might address those issues in any way, well… while the 104-minute special made time for A-list cameos like Justin Bieber, Cindy Crawford, and Lady Gaga, there was absolutely no mention of the problematic aspects of the series, which ran for an entire decade and featured fewer than a handful of non-white series regulars. By the way, none of which actually appeared in the reunion special.
In an interview with The Sunday Times, the special's director, Ben Winston, brushed off criticism about both the series itself and the reunion special. "We have Malala [Yousafzai], Mindy Kaling, BTS," Winston said. "There are three women from Ghana, one who talks about how Friends saved her life. Two boys from Kenya. Three kids in India. What more diversity do they want in this reunion?" he continued. "The cast is the cast. It was made in 1994. I think it's remarkable how well it does stand the test of time."
When asked why none of the show's non-white regulars (such as Aisha Tyler, who played Ross Geller's girlfriend for nine episodes of the final two seasons) appeared in the reunion, he explained that "not everyone could join," adding, "I'm really pleased with the show we were able to put together."
During the special, Friends co-creators David Crane and Marta Kauffman doubled down on their claims that the concept of Friends was something "we hadn't seen before," seemingly ignoring the existence of Living Single — a comedy with the same concept and a Black cast — which had premiered an entire year before Friends did and receives few of the same accolades and fanfare in mainstream media and culture.
While Kauffman now says there are "probably a hundred things [she] would have done differently" she mostly feigns ignorance about the series' lack of diversity, telling The Hollywood Reporter after the reunion aired, "I do have very strong feelings about my participation in a system, but it comes down to I didn't know what I didn't know."
Kevin Bright, the show's executive producer/director, had a decidedly different take, telling THR, "No. I don't have any regrets other than hindsight. I would have been insane not to hire those six actors. What can I say? I wish Lisa [Kudrow] was Black? I've loved this cast. I loved the show and I loved the experience. I know Marta has a different feeling about it. I think it affects us all." Well, OK. There you have it.
This article was originally published on