A 'Friends'-Themed Cruise Is Coming & Could We BE Anymore Excited?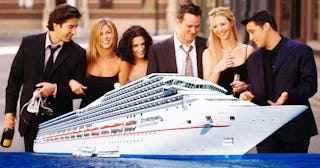 Don Hammond/Warner Bros. Television/Getty
If you love "Friends" and cruising we have news for you
If the recent Friends reunion didn't quench your thirst for all things Rachel, Ross, Monica, Joey, Chandler, and Phoebe, perhaps a Friends-themed cruise will? The Celebrity Equinox recently announced a cruise with 500 of your closest friends to celebrate the iconic '90s TV show that won our hearts for decades.
This themed cruise will set sail on May 15, 2022, for a week. Leaving from Fort Lauderdale, the ship has several scheduled stops, including beautiful Key West, Grand Cayman, and Cozumel. The "Cruise with Friends" trip is being put on by travel agency Fan World Travel. It is a partial charter of the ship, so 500 of the 1000 people on board who book through them will enjoy a week of fun-filled Friends events. The other 500 will be immensely jealous.
The site promises Friends-themed costume contests where you know there will be a bunch of Joeys wearing all of Chandler's clothes ("Could I BE wearing any more clothes?), trivia games, and other surprise goodies. According to the description, cruisers should, "Get ready to eat like Joey, joke like Chandler, cook like Monica, shop like Rachel, yoga like Phoebe and dig like Ross."
Fares range from $1,648.66 per person for an inside stateroom up to $3,048.66 for a Sky Suite with a balcony view to the ocean below. Deposits are $1,000 per person for inside rooms and ocean view and balcony cabins and suites are $1,500 per person. These are nonrefundable tickets, so travel insurance is recommended.
What a fun way to spend a week with your friends and others who enjoyed the show as much as you did. Here's hoping there are no jellyfish stings and subsequent peeing on your pal's feet while you're cruising. Unfortunately, none of the cast members will actually be on the cruise itself, but we're thinking there will be plenty of references, watch parties, souvenirs, and other shenanigans available to make it seem like they are right there with you.
The cast has been making headlines in recent weeks after their reunion show on HBO Max brought back floods of memories for them and their fans. "It was a character-driven funny, not timely funny," Matthew Perry told People of why the show remained so popular. "They didn't make timely jokes. They didn't make jokes about O.J. Simpson. They made character-driven jokes about people – and people are going to come back time and time again and watch that." Co-star Matt Leblanc agreed, saying, "It's funny, when we do get together, it's like no time has passed. We pick up right where we left off."