Espresso Yourself With These 80+ Buzzy And Funny Coffee Quotes
by Patricia Grisafi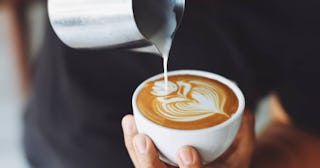 Chevanon Photography/ Pexels
Have you ever uttered the words "coffee is life"? Well, you came to the right place, friend! You are definitely our people. You know, the kind whose whole day sometimes revolves around when and where to procure a cup of coffee. Will you get your java fix at the cute cafe on the corner, with sleep in your eyes and a kid that required the most inspirational quotes in your arsenal to drag (read: bribe) out of bed? Do you try your luck with the ancient Keurig lurking on the counter? When is it time to take a break from work and grab another mug? Have you had too much? Is there even such a thing? Not enough? Oh, that's definitely a thing. Life, for those of us who consider ourselves coffee experts, consists of walking the fine line between tired but also wired. Coffee can make us laugh, it can make us cry… basically, it just makes us.
RELATED: 100+ Trivia Questions And Answers For A Challenging Game Night At Home
If this sounds like your day, you might find some solace — and an extra buzz — in these funny quotes about coffee, a beverage that has apparently been preoccupying folks since the dawn of time. Enjoy with a cup of coffee. Or maybe not. Haven't you had enough?
RELATED: 100+ Scrumptious Food Puns That'll Have You Working Up An Appetite
Funny Coffee Quotes
"I like coffee because it gives me the illusion that I might be awake." — Lewis Black
"Behind every successful woman is a substantial amount of coffee." — Stephanie Piro
"What do you want?" "Just coffee. Black — like my soul." — Cassandra Clare
"The second cup of coffee is never as good as the first." — Theodore Roosevelt
"Should I kill myself, or have a cup of coffee?" — Albert Camus
"Even bad coffee is better than no coffee at all." — David Lynch
"I never laugh until I've had my coffee." — Clark Gable
"If this is coffee, please bring me some tea; but if this is tea, please bring me some coffee." — Abraham Lincoln
"Our culture runs on coffee and gasoline, the first often tasting like the second." — Edward Abbey
"A 41-inch bust and a lot of perseverance will get you more than a cup of coffee — a lot more." — Jayne Mansfield
"Kids are meeting in coffee shops and basements figuring out what's unsustainable in their communities. That's the future." — Ian Somerhalder
"It is the folly of too many to mistake the echo of a London coffee-house for the voice of the kingdom." — Jonathan Swift
"I'd rather take coffee than compliments just now." — Louisa May Alcott
"I quit coffee. It won't be easy drinking my Bailey's straight, but I'll get used to it. It'll still be the best part of waking up." — Megan Mullally
"Coffee. Creative lighter fluid." — Floyd Maxwell
"Coffee, the favorite drink of the civilized world." — Thomas Jefferson
"Without my morning coffee, I'm just like a dried–up piece of goat." — J.S. Bach
"It's amazing how the world begins to change through the eyes of a cup of coffee." — Donna A. Favors
"Coffee is a beverage that puts one to sleep when not drank." — Alphonse Allais
"Coffee with a friend is like capturing happiness in a cup." — Anonymous
"Love is in the air, and it smells like coffee." — Anonymous
"Coffee is a hug in a mug." — Anonymous
"Black as the devil, hot as hell, pure as an angel, sweet as love." — Charles Maurice de Talleyrand
"Forever: Time it takes to brew the first pot of coffee in the morning." — Anonymous
"Coffee first. Schemes later." — Leanna Renee Hieber, Darker Still
"Want coffee?" I asked, as I headed that way.
"It's three thirty in the morning." "OK. Want coffee?" — Darynda Jones, Third Grave Dead Ahead
"Mercy," he mumbled. "What the hell did you do to my French Roast?" — Patricia Briggs, Moon Called
"Come on, don't you ever stop and smell the coffee?" — Justina Chen Headley, North of Beautiful
"Do you know how helpless you feel if you have a full cup of coffee in your hand and you start to sneeze?" — Jean Kerr
"I like my coffee black, my beer from Germany, wine from Burgundy, the darker, the better. I like my heroes complicated and brooding, James Dean in oiled leather, leaning on a motorcycle. You know the color." — Barbara Crooker
"Do Lipton employees take coffee breaks?" — Steven Wright
"Drinking a cup of coffee with your eyes closed isn't a sophisticated task for a person, but it's hard for a robot." — Vijjay Kumar
"Even a bad cup of coffee is better than no coffee at all." — David Lynch
"I like my coffee like I like my women. In a plastic cup." — Eddie Izzard
"I quit coffee. It won't be easy drinking my Bailey's straight, but I'll get used to it. It'll still be the best part of waking up." — Megan Mullally
"I wake up some mornings and sit and have my coffee and look out at my beautiful garden, and I go, 'Remember how good this is. Because you can lose it.'" — Jim Carrey
"If it wasn't for the coffee, I'd have no identifiable personality whatsoever." — David Letterman
"My children know not to shout before Mummy has warmed herself into something human with her coffee." — Ben Kidron
"Never drink black coffee at lunch; it will keep you awake all afternoon." — Jilly Cooper
"Never trust anyone who doesn't drink coffee." — AJ Lee
"Our culture runs on coffee and gasoline, the first often tasting like the second." — Edward Abbey
Morning Coffee Quotes
"Coffee is a way of stealing time which should by rights belong to your older self." — Terry Pratchett
"I was taken by the power that savoring a simple cup of coffee can have to connect people and create community." — Howard Schultz
"Good communication is just as stimulating as black coffee, and just as hard to sleep after." — Anne Morrow Lindbergh
"But if it weren't for the coffee, I'd have no identifiable personality whatsoever." — David Letterman
"I have measured out my life with coffee spoons." — T.S. Eliot
"Coffee is a beverage that puts one to sleep when not drank." — Alphonse Allais
"Adventure in life is good; consistency in coffee even better." — Justina Chen
"No one can understand the truth until he drinks of coffee's frothy goodness." — Sheik Abd-al-Kabir
"To an old man a cup of coffee is like the door post of an old house — it sustains and strengthens him." — Old Bourbon Proverb
"People say money can't buy happiness. They Lie. Money buys Coffee, Coffee makes Me Happy!" — Unknown
"Decaffeinated coffee is like a hairless cat, it exists, but that doesn't make it right." — Unknown
"Science may never come up with a better office communication system than the coffee break." — Earl Wilson
"A 41-inch bust and a lot of perseverance will get you more than a cup of coffee — a lot more." — Jayne Mansfield
"Good communication is just as stimulating as black coffee, and just as hard to sleep after." — Anne Morrow Lindbergh
"Seven days without coffee makes one weak." — Unknown
"Caffeine — It maintains my sunny personality." — Unknown
"The powers of a man's mind are directly proportional to the quantity of coffee he drank." — Sir James MacKintosh
"I'm going to start measuring the complexity of coding tasks in coffee cups. This was a five-espresso algorithm." — Unknown
"A mathematician is a device for turning coffee into theorems." — Paul Erdos
"Coffee smells like freshly ground heaven." — Jessi Lane Adams
"Decaf? No, it's dangerous to dilute my caffeine stream." — Unknown
"Doctors found traces of blood in my coffee stream." — Unknown
"Did I run out of caffeine or are you really that boring?" — Unknown
"Coffee, coffee! It's our drink! If we don't get it, we can't think!" — Unknown
"Friends bring happiness into your life. Best friends bring coffee." — Unknown
"There is no use crying over spilled milk… spilled coffee however, may get you stabbed." — Unknown
"Life without coffee is like something without something… sorry, I haven't had any coffee yet." — Unknown
"Come here, you giant cup of beautiful coffee, and lie to me about how much we're going to get done today." — Unknown
"I like my coffee like I like myself: Strong, sweet, and too hot for you." — Jac Vanek
"Coffee is the gasoline of life." — Unknown
"I eat salad every day. Bean salad… coffee bean salad… coffee. I drink coffee every day." — Unknown
"I don't need an inspirational quote, what I need is a freaking cup of coffee." — Unknown
"Why, yes, I could start my day without coffee. But I like being able to remember things like how to say words and put on pants." — Nanea Hoffman
"Want to hear a really dark joke?… Decaf." — Unknown.
"Coffee, unless it is very good and made by somebody else, is pretty intolerable at any time." — Iris Murdoch
"What goes best with a cup of coffee? Another cup." — Henry Rollins
"If it weren't for the coffee, I'd have no identifiable personality whatsoever." — David Letterman
"I like coffee exceedingly…" — H.P. Lovecraft
"Decaffeinated coffee is like a hairless cat: it exists, but that doesn't make it right." — Anonymous
"Sleep is a symptom of caffeine deprivation." — Anonymous
"Coffee in England is just toasted milk." — Christopher Fry
"Like everyone else who makes the mistake of getting older, I begin each day with coffee and obituaries." — Bill Cosby
"Coffee is the best thing to douse the sunrise with." — Terri Guillemets
"I sometimes get excited at night thinking of the coffee I'll get to drink in the morning. Coffee is reason to wake up. There are other reasons, of course. But coffee is the incentive, at the very least." — Annie Clark
This article was originally published on