Easy Come, Easy Grow! 11 Garden Coloring Pages Perfect For Little Green Thumbs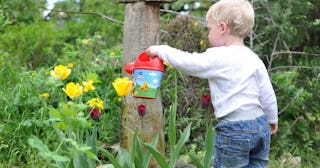 vikvarga/Pixabay
Spring is in the air, and there's no better time to get outside and get your hands a little dirty — in the garden, that is. There's nothing quite like experiencing the (literal!) fruits of your labor as you enjoy your afternoon snack: a fruit and veggie platter a la your backyard crop. Getting your kids in on the action? Even better! Gardening is the perfect way to spend time together as a family while soaking up the wonderful warmth of the sun (and all that vitamin D!). Granted, that might be a hard sell for your kids at first. We've got just the thing to help get them pumped up about cultivating something organic with you, though! That's right — it's a collection of garden coloring pages, ready and waiting for your little green thumb's artistic touch.
After all, there are myriad reasons to get into gardening and to want that for your kiddo, too. Among the benefits of having a garden, as cited by University of North Carolina physicians? Gardening can build self-esteem (who doesn't like seeing an accomplishment come to life?), improve cardiovascular health, reduce stress, increase levels of the "happy" chemical serotonin in the brain, and foster better eating habits, to name a few.
So, what are you waiting for? Get going on these super-fresh garden coloring pages. And after you harvest a few masterpieces to hang on the fridge, lean into the farm theme with our vegetable coloring pages, horse coloring pages, pig coloring pages, cow coloring pages, and chicken coloring pages.
Free Printable Garden Coloring Pages
Garden Page No. 1
Did you know that the first garden gnomes surfaced in Germany in the early 1800s? These charming (then clay) lawn decorations began being mass-produced in Germany in the 1870s. From there, the popularity of this miniature garden friend has continued to grow, and now, it's common to see them in gardens all across America.
Garden Page No. 2
Well, it turns out our moms were right — carrots really do improve eyesight. Hear that, kids? Eat up! Carrots are rich in beta-carotene, which the body uses to produce vitamin A. Vitamin A is known for, you guessed it, improving eyesight.
Garden Page No. 3
Mother Nature is most definitely smiling down on you when you are out working in your garden. She knows you're tending to those tiny seedlings, growing them into thriving plants — what more could she ask for?
Garden Page No. 4
Here's another interesting fact for you: There are more microorganisms in one teaspoon of soil than people on earth. Yep, it's pretty incredible. Your soil is teeming with life, literally. It may ick you out a bit, but that soil is full of nutrients and all kinds of good stuff for your plants.
Garden Page No. 5
Growing a flower garden is a beautiful way to spend time with your little one. Share this coloring page with them (be sure to print one out for you too!), along with your plan to bond all season long while spending time together on your new parent-child plant project.
Garden Page No. 6
Ever wonder why plants are green? Well, it's because they have chlorophyll! Chlorophyll is what plants use to make their food, and everything with chlorophyll is green. No wonder green is such a happy color symbolizing both life and growth.
Garden Page No. 7
Look at that lovely garden! What are you growing this year? Color this picture with your kiddos and share photos of your garden at home with us over on IG @scarymommy. Who knows? Your garden selfies might sprout up right here on this page in the near future.
Garden Page No. 8
Did you know that vanilla flavoring comes from the pod of an orchid? Vanilla planifolia — yum. Share that fun tidbit with the barista the next time you pull up to order that delicious vanilla latte from your fave coffee stop!
Garden Page No. 9
Are you a spud lover? If potatoes (french fries, mashed potatoes, baked and fully loaded — let's be real; potatoes are delish no matter how you cook 'em!) are your side item of choice, you might be interested to know that they were first cultivated in Peru over seven thousand years ago. How's that for a classic dish?
Garden Page No. 10
This idyllic garden scene is enough to make you want to turn your backyard into your very own botanical oasis, so snag it now and daydream away. Maybe an outdoor escape is just what you need! Even if you don't have the space for a sprawling garden like this, you could always give container gardens a shot.
Garden Page No. 11
These tools are key to maintaining a growing garden. Teach your child about what each one does to teach them more about gardening. Did you know more organisms are in a teaspoon of soil than there are people on earth? That's a lot of living creatures! Here's something interesting about the gardening fork. It was created by Andre Grelinin in the 1950s. And here's a gardening tip to keep your flowers fit and healthy: This may be an old wive's tale, but some people find that planting under the moonlight or in the evening keeps weeds from growing in their gardens. Even if it doesn't work, gardening at night sounds super relaxing!
Click here to print all of the garden coloring pages at once!
This article was originally published on