Meet Your Batch! These Gingerbread Man Coloring Pages Are A Real Treat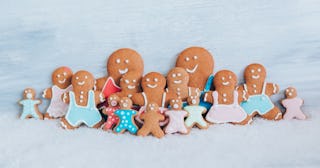 victoriabee/Getty Images
Who doesn't love a yummy gingerbread man to warm you up as soon as the weather gets cold? A little bit of ginger, cloves, nutmeg, cinnamon, and molasses is the perfect pick-me-up during the wintertime, not to mention the yummiest reminder that Christmas is just around the corner. Baking gingerbread men with your little ones is a fun and festive activity that you undoubtedly love to do together — which is why you'll probably also love our free gingerbread man coloring pages. They are the jolliest addition to your pre-game holiday schedule.
These gingerbread man coloring pages are the best excuse for your children to get creative in preparation for Christmas. Gingerbread men (and gingerbread women!) come in all shapes, sizes, and colors, so your gingerbread can look however your little holiday-heart wishes. Alongside these delicious images are some facts about gingerbread that we think you'll get a kick out of reading. For example, the word "gingerbread" derives from the Old French word "gingebras," meaning "preserved ginger." However, ancient Greeks reportedly wrote down a recipe for gingerbread way back in 2400 BC.
Regardless, baking up some gingerbread treats is a timeless tradition that your kids will enjoy both in the kitchen and with these free gingerbread coloring pages. Once you finish these adorable printables, keep the Christmas vibe flowing with our elf coloring pages, angel coloring pages, penguin coloring pages, and cookie coloring pages.
Free Printable Gingerbread Man Coloring Pages
Gingerbread Man Page No. 1
The largest gingerbread house in the world was built in Texas (because everything is bigger there) and was 60 feet by 42 feet and worth 35,823,400 calories. We can consider that a cheat day.
Gingerbread Man Page No. 2
In the 1875 version of the famous gingerbread man rhyme, the cookie runs from a diverse cast of characters (including farm animals and humans) while chanting, "I've run away from a little old woman, a little old man, and I can run away from you, I can!" Spoiler alert: He doesn't make it.
Gingerbread Man Page No. 3
Gingerbread has been around in Europe since around the 11th century. Back then, settlers used the treat — which was pressed into shapes like flowers and animals — as a means of flirting at times. Women would give knights pieces of gingerbread before medieval competitions to bring them luck. And we guess if they lost, then… no love match. Gingerbread men are also considered lucky for unmarried women. If they eat the cookie, they'll have better luck meeting their future husbands.
Gingerbread Man Page No. 4
It was the first Queen Elizabeth who made gingerbread men a real thing. She asked her bakers to make gingerbread cookies shaped and decorated to look like her guests at parties and banquets. Everyone loved the idea so much that the idea of gingerbread men stuck around.
Gingerbread Man Page No. 5
According to Swedish tradition, gingerbread can be considered lucky. All you have to do is place one in your palm and make a wish. You then have to break the gingerbread with your other hand. If the gingerbread breaks into three pieces, the wish will come true.
Gingerbread Man Page No. 6
While gingerbread houses were popular in Germany for many years, they really took off once the Brothers Grimm published their Hansel and Gretel fairy tale in 1812. Soon bakers were making gingerbread houses and showing them off at Christmas markets. Shortly, bakers around the world were making them for the holidays, and a tradition was born.
Gingerbread Man Page No. 7
The world record for the largest gingerbread man ever made was set in 2009 in Norway. An IKEA store in Oslo unveiled the massive 651,000-gram cookie, which a local bakery whipped up. Hmm, wonder if they had a side of IKEA meatballs with it, too?
Gingerbread Man Page No. 8
Gingy, the gingerbread man from Shrek, is probably one the most famous gingerbread men ever. In the film, Lord Farquaad threatens to rip off his beloved gumdrop buttons during a particularly intense interrogation.
Gingerbread Man Page No. 9
The Ritz-Carlton in Tucson, Arizona, once boasted a real-life-sized gingerbread house where guests could dine between walls made from 850 pounds of sugar for $300.
Gingerbread Man Page No. 10
Gingerbread's not just for Christmas! June 5 and November 21 are National Gingerbread Day, which means you can eat gingerbread men anytime you want.
Click here to print all of the gingerbread man coloring pages at once!
This article was originally published on