What Girls' Night Out Means To A Mom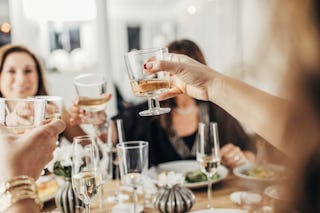 knape / iStock
I have enjoyed a good girls' night out since my mom started dropping my friends and me off at the mall or the movies when I was 13. The connection, the banter, the laughing, it is all so good. It's my soul food, really.
But it seems like when we are first introduced to motherhood it can be so hard to bear the thought of leaving our baby. We become anxious to get home if we do leave for an evening. And trying to pull ourselves together enough to go out in public after a tough day is beyond exhausting. Slipping into jammies at 4 p.m., avoiding phone calls, going to bed at a very early hour, and making excuses to stay home seems to be what mamas need for a bit.
After a while, though, my friends and I began to realize how much we had missed the kind of love and connection a good girls' night out can give us. You start to feel ready for more than just a quick text or phone call. The thought of getting a little fancy seems appealing. And it sounds so nice to be able to talk to another woman without being interrupted or trying to coordinate around napping schedules. Girls' night seems to mean something different to women after they have kids.
We are more than mothers.
A night out can give us clarity. Motherhood can be all-consuming, but when we step outside of it, we remember that we are also friends. We are women who need to relate to other women in order to feel whole and fulfilled. It can be so satisfying to talk to a friend who is going through the exact same stuff as you and who genuinely supports you. The understanding I get from my mommy friends, well, it is everything. It's these women, these friends, who help us remember our past and let us dream about the future no matter how unrealistic we may be.
It feels really special.
Getting dressed up and doing something special, like going to see a great movie or dining at your favorite place with some (or one) of your favorite women, doesn't happen as often after you become a mother. But when it does, it takes more effort so you make it count. It can be what gets you through a really hard week.
We have a deeper connection.
After having children, you form amazing bonds with the moms in your life. You share birth stories. You are there to hold her newborn baby. You understand her struggles with breastfeeding because you struggled too. You get why she is frustrated with her husband because you have been there so many times. When she is talking about how much she is in love with her family and how damn hard life can be, you know exactly what she is feeling.
We realize how much it feeds us.
Sometimes we put so much focus on what our family needs from us that we forget what it feels like to be needed in a different way. To simply be able to sit and just be there for a friend can be so rewarding.
It is a true celebration.
Girls' night is about celebrating friendship, sisterhood. It is about helping each other get up again when we feel like we have failed. It is about reminding each other of our awesomeness. It is about indulging in a big plate of nachos and salty cocktails, dancing, making meaningful conversation, feeling pretty, and being needed.
It is the best therapy.
Girls' night is a little harder to squeeze in now that our lives are so full, but life is not about the busy. It is about what you make time for, and my girlfriends count. So do I. When I see a bunch of women together, drinking, laughing, swearing, and dancing, I know this: They are getting the best therapy of their lives.
This article was originally published on