This Grandpa Rocking Out At A Lizzo Concert Is A MOOD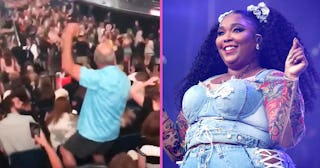 Lizzo/Instagram and Kevin Mazur/Getty
Live your life every day with as much excitement as this grandpa rocking out to Lizzo
In case you've somehow missed it, Lizzo is everything and everywhere right now. Her 2017 song "Truth Hurts" is the actual anthem of the summer and our lives, and everyone is deeply into it. And we do mean everyone.
The queen herself shared a hilariously sweet video of a grandpa at a concert who just could not hold back when his favorite song came on. Of course that song was "Truth Hurts," and this grandpa busting a move to the song of the summer is just the thing you need to see today to start your day off on the right foot.
"AN EXAMPLE OF MEN BEING GREAT WHEN ITS TIME TO BE GREAT!" Lizzo wrote in the caption, adding, "TRUTH HURTS #1" because nobody better forget that her song is dominating the charts, just as it deserves to.
This grandpa is a mood. He is an inspiration. He's a small reminder to all of us to live our lives as if we're seniors at a Lizzo concert and an excellent bop just came on. We don't know who he is, but we hope he knows how much he's inspired a nation today. I mean, just look at the comments on the video. People needed this kind of content today, and this grandpa and our queen delivered.
What makes the video of this mystery grandpa so great is that he's really living the life that Lizzo keeps telling us we should all live. She preaches a strong and unending message about loving yourself in a world that constantly tells all of us we're falling short or not worthy. She wants everyone to live their absolute best lives and feel themselves while they're at it, and that means dancing unapologetically to a song you love, right out there in public, even though someone may be filming you to put it on the internet. In fact, especially because someone may be filming you to put it on the internet. Dance to our queen Lizzo as if you're creating the next viral video that will make someone smile. It's what she would want you to do.
So do your hair toss, check your nails, and get out there and bop like this grandpa did. Do it for Lizzo, do it for yourself.