Mark Your Calendars: Hallmark Christmas Movies Start On October 27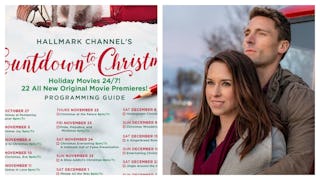 LEFT:HALLMARKCHANNEL.COM RIGHT:BROWNMEDIAUNITEDSTATESLLC: SHANEMAHOOD
The nip of fall is hanging in the air and The Hallmark Channel is throwing Christmas in our face before every leaf has had a chance to fall. And if you are anything like me, you are freaking ready to sip on the nog and take control of the remote until the New Year.
That's right, folks, you won't even have your kids' Halloween costumes done before we'll be blessed with the opportunity to hear corny love stories mixed with snowflakes and drama. That's because Hallmark is busting out its holiday line-up starting on October 27. It's going to be glorious, I tell you. GLORIOUS.
If you don't agree and happen to be someone who doesn't mesh well with overly cheery people who bring on the holiday too soon, then just don't watch (or listen to all the hype about how awesome Hallmark Christmas movies are, and ignore the Christmas decorations and music popping up everywhere). You do you.
But with 22 movies — yes, 22! — it sounds like there will be parties to decline, books to ignore, and dishes to let pile up while we watch a woman run into the town's mailman after her rich boyfriend cheated on her and live happily ever freaking after because we are deserve the chance to believe in some sort of magic, dammit.
If you are trying to capture the perfect girls' night in with little effort because extravagant holiday parties are overrated and you are outta Spanx, all you need are a few friends, matching fur throws, the smell of hot cocoa and popcorn wafting through your home — The Hallmark Channel does the rest.
Want to turn the holiday cheer up a notch? Have some mulled wine on the stove and play The Hallmark Drinking Game. You are sure to have sugar plums dance in your head that night because you'll be fucking wasted. In fact, drinking every time a character from the big city moves to a small town, someone gets snowed in, or you see an ice skating scene means you'll probably have to chug or use a straw in order to keep up. Cheers!
Another idea is have a family night in, buy matching jammies, light candles, have snacks for dinner and watch the night away. I've done this with my kids for years. It's a tradition that's gone from love to hate as they've turned into unreasonable teenagers, but I still force it upon them. Some traditions are about me and they will participate in this one until they move out, and they will like it, dammit.
Just in case you've forgotten how much you really do need unrealistic bullshit in your life let me refresh your memory about how amazing these movies are (jingle bells, please!):
Make sure you have lots of things on hand to stuff your face with — this one brings out all your hungry emotions and makes you believe you can be a baker even when you really can not.
We don't understand how someone can set off to visit her fiancé and go home with the wrong brother from the airport and mysteriously fall in love in with him, but we all want it to happen to us on some level. It's romantic and confusing.
Oh, we love Lacey Chabert from her Party of Five Days, but have you seen her in a Hallmark movie? She nails it every time and in this one she puts her nasty mother-in-law (AKA, the Queen) in her place and it's (a little too) exciting to watch. Royalty equals a perfect, romantic life, obvi. We literally can't get enough of these story lines.
If you get fired from your job while supporting your brother and sister, don't worry. You're sure to be recruited to be a governess and marry into a wealthy, royal European family. Just be patient.
The story line is different than most of the Hallmark Christmas movies, it's heart-felt and will leave you sobbing in your gingerbread. If you only watch one Hallmark movie this Christmas, make it this one.
Let your cares melt away this year because The Hallmark Channel delivers some killer therapy. It's the best background for wrapping gifts, baking cookies, painting your toes and ignoring all your problems.
SaveSaveSaveSave
This article was originally published on