15 Ghoulish Halloween Cookies For Your Epic Halloween Party
by Team Scary Mommy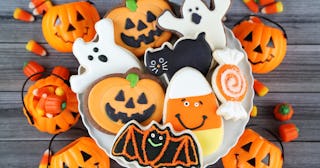 kirin_photo/Getty
Though silly Halloween shenanigans may still look different this year with socially distanced trick-or-treating and face masks in lieu of costume masks, that doesn't mean you shouldn't bake some spooky-ass cookies. You may not be able to attend your usual Halloween party, but you can always pretend like you're going to go — and then remember the whole pandemic at the last minute and decide to stay home to make some Halloween cakes and eat all the fancy Halloween cookies yourself. (Just an idea off the top of our heads.)
Or, if you have kids who are into baking, whipping up a few batches of the following spooky treats could make a fun activity any weekend. Correction: Fun for them, at least. Ready to get your creepy cookie-baking on? Try your hand at these spooky Halloween cookies perfect for a party… or yourself.
Easy Ideas for Halloween Cookies
1. Creepy Cookies
https://www.instagram.com/p/CFxaNtXglIH/?utm_source=ig_web_copy_link
Why pick just one feature of Halloween, when you can put a bunch of them together in the same cookie? We have to say, the candle wax is a nice touch.
2. Candy Corn Cookies
Whether or not you like actual candy corn (we know it can be divisive), you can't go wrong with the cookie version. This slice-and-bake recipe looks fancy but is actually pretty simple.
3. Mummy Cookies
No, Halloween probably isn't the time to go low-carb, but if you happen to be that this month, these easy mummy cookies are both festive and delicious.
4. Ghost Cookies
https://www.instagram.com/p/CFz9aeNg_7X/?utm_source=ig_web_copy_link
These adorable ghost cookies are impressive enough for a party, but also perfect for saving just for your family.
5. Pumpkin Samoa Cookies
This Halloween take on the Girl Scout classic may not have the fanciest decoration, but they're sure to stand out at your party based on taste alone.
6. Witch's Finger Cookies
If your kids enjoy the grosser things in life, they will probably love these cookies that look like the fingers of an arthritic witch (who seemingly also has some sort of blood disorder).
7. Witch's Hat Cookies
To embrace the witchy part of Halloween, but with fewer visibly painful joints, these witch's hat cookies are not only super cute but also super easy. You can even give your cookies a witch name just for funsies.
8. Frankenstein Cookies
Looking for Halloween cookie inspo? Well, look no further. This version of Frankenstein's (monster's) head perfectly conveys the awkwardness of being brought back to life.
9. Pumpkin Sugar Cookies
Sugar cookies aren't only delicious, but they're also great for decorating. Whip up a batch of these and make your own funny pumpkins, ghouls, or other monsters.
10. Spiderweb Cookies
Even if you don't have time to make your own cookie dough, you can always grab some that are already made from the store to add your own decorative touches with frosting, like these spiderweb cookies.
11. Eyeball Cookies
If you've decided to skip the whole sticking-your-hand-in-a-bowl-of-peeled-grapes party trick this year, you might want to opt for these eyeball cookies instead.
12. Hocus Pocus Cookies
https://www.instagram.com/p/CFz7uvhnFdb/?utm_source=ig_web_copy_link
No, these aren't for beginners, but these cookies featuring the characters from the movie Hocus Pocus are really fun. Gather your coven and snack accordingly.
13. Halloween-y Things
You'll need to work up to being able to create cookies like this, but it's so worth it for the end results. Although this collection includes things like candles and decorated front doors, you could add in any designs that scream Halloween to you.
14. Snakes and Skulls and Pumpkins, Oh My!
Honestly, these are almost too pretty to eat. Almost.
15. Kawaii Candy Corn
Even if candy corn isn't your favorite Halloween treat, you can probably agree that these are really frickin' cute. The Kawaii design twist definitely gives these an extra boost of adorableness!
This article was originally published on