15 Eerie Halloween Garland Ideas That Are Not Just Pumpkins And Ghosts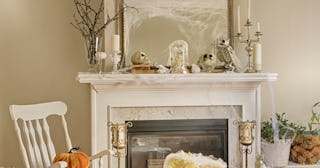 Anjelika Gretskaia/Getty
Even if you're not that into decorating your home for various holidays, if you have kids, it may be something you feel like you have to do. (To be clear: You absolutely do not, but we understand that type of mom-specific pressure.) And if Halloween decorations in particular sound a little too gross and/or complicated for your taste, have no fear: There are some easy and cheap DIY options that look more polished than spooky. One of our favorites is a good ol' DIY Halloween garland. Literally string together a few things and before you know it, you'll have a reusable decoration that you can stick up year after year.
RELATED: Easy DIY Home Projects Literally Anyone Can Take On
And if you're lucky enough to live somewhere with a fireplace, that's even better. This is a no-fuss and no-mess way to add some Halloween jazz to the room. Here are 12 of the best Halloween DIY garlands, perfect for decorating your fireplace.
1. Hocus Pocus
Maybe your children don't share your love of the classic Halloween film Hocus Pocus quite yet, but that doesn't mean you can't honor the Sanderson sisters yourself.
2. Black Cat
This crocheted DIY garland may not be that easy if you don't know how to crochet already. But if you do, these black cats will add a sweet Halloween touch to your home.
3. Bony Hands
Grab a few plastic skeleton hands from the store, and string them up yourself for a spooky (but simple) DIY Halloween garland to hang over your fireplace.
4. Witchy Fabric and Lights
This DIY Halloween garland is not only versatile (it can go up your staircase, over your fireplace, or anywhere else that needs a little spook), but it's also cheap: The lights and fabric are usually available at the dollar store.
5. Boo
You can probably find a classy Halloween garland that says "BOO" in a store, but it's not too hard to make one yourself. All you need is a little time and a little twine.
6. Trick or Treat
Who doesn't love felt?! Gather your favorite Halloween colors and rig up this adorable DIY "trick or treat" garland.
7. Yarn Tassels
Have leftover yarn from another DIY Halloween craft project? Bunch the twine, cut to desired thickness, add a piece of string to create a tassel, and voila! This is a great one for the kids, because after you've done the cutting, all they need to do is tie everything together. It's perfect for hanging over rustic fireplaces.
8. Jack-O-Lanterns
Even if you don't have a house stocked with crafting supplies, you can always make a garland out of paper and string. This one involves cutting out jack-o-lantern faces in various colors, and stringing them together.
9. Pom-Poms and Bats
Remember how mind-blowing it was when you were a kid and first learned how to make pom-poms out of yarn? Give your kiddos the same experience making this DIY Halloween garland. Bats are optional.
10. Popcorn and Berries
Think popcorn garlands are only for Christmas? Think again! They're just as cheap and easy to make for Halloween. Plus, maybe your kids will eat some of it while making the garland (at least that way they'll add some fiber to their candy diet).
11. Happy Halloween
This DIY Halloween garland is a classic. Cut out the letters you need to spell "Happy Halloween" and tie them together for a minimalist but still festive fireplace decoration.
12. The Ghosts With the Most
OK, how cute are these yarn ghosts?! This is another simple DIY option that you can customize by color or adding lights.
13. Chains
Who knew something so simple could make such a killer statement for Halloween? You should be able to find faux chains at any craft or costume store around Halloween, making this a quick and easy (and affordable) garland idea.
14. Velvet Pumpkins
When it comes to making Halloween garlands, think outside of the box! These colorful velvet mini-pumpkins clearly make a super-cute choice.
15. Candy Corn Pom-Poms
Now that you've mastered making yard pom-poms, take it up a level by making candy-corn-themed pom-poms and turning them into a uniquely sweet garland.
This article was originally published on