Scary Good Halloween Makeup Ideas For Kids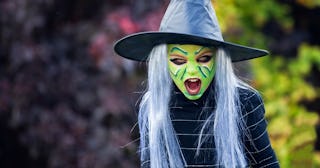 Rebecca Nelson/Getty Images
Maybe you waited until the last minute and couldn't score your kid a killer costume. Or perhaps you just want to enhance the spooky or funny Halloween ensemble they do have. Either way, you're here on the hunt for easy Halloween makeup ideas for kids, and we applaud you. Sure, dressing up is fun. But, if you ask us, makeup can make or break a costume. Besides, you're bound to score bonus points when you invite your kid to play with face paint!
When you think of Halloween makeup ideas, you might assume you have to be a special effects prodigy. Fortunately, though, there exist plenty of designs that require little more than a relatively steady hand and the right supplies. And whether your kid likes cutesy woodland creatures or veers more toward the macabre, we've got you covered.
Here are some of our favorite, easy-to-recreate Halloween makeup ideas for boys and girls — or that can easily be adapted for adorable little faces.
RELATED: 16 Adorable Twin Halloween Costumes That Also Work For BFFs
Halloween Makeup Ideas for Kids (That You Can Actually Recreate)
1. A Glam Scarecrow
https://www.instagram.com/p/CFuVPeknp4D/
Makeup maven Erin Dugan Jurchak walks you through this beautiful scarecrow look. You may want to skip the fake lashes, but otherwise, this is super simple to copy for your kiddo.
2. Classic Big Cat
https://www.instagram.com/p/CFnH2zAjB-c/
What's fantastic about this big-cat look is that special effects makeup artist Joey Elliot tells you exactly which products he used — and he specifically chose them to be easily accessible and affordable.
3. Bat Mask
https://www.instagram.com/p/B4RvbxegwVQ/
Dadadadadadada… Bat Kid! Dress your kid in all black, copy this crazy-easy bat mask makeup look, and call it a day. Pump your kid up even more about the look by letting them pick the contrasting color around their eyes.
4. Oh, Deer
Let blogger Bethany Balsis walk you through this dreamy deer look that is every bit as easy as it is beautiful.
5. Half Skull
We're noticing a trend in recent years in the half-makeup look which, hey, is great news. Even if you suck at special effects, you only have to pull it off on one side of your kid's mug! This design is particularly appealing since a skull is one of the easier face makeup looks to achieve.
6. Little Marionette
https://www.instagram.com/p/B4Q46PMAI75/
This look is best suited for kids who don't scare easily because, well, just look at it — it's terrifying. It's also strangely beautiful as well, don't you think? If you can do your own face makeup, you can do this. It's more about the placement of the makeup than the design (i.e. the bags under the eyes and the mouth drawn onto the chin).
7. Eye Spy-der
https://www.instagram.com/p/B4KWjWPlRPy/
Low-key mamas, unite! This look is perfect for those of us who want to give our kiddos something festive that just so happens to be wildly easy. We recommend dressing your creepy crawler in all black and sticking a red hourglass cut-out on their back.
8. Count Dracula
When in doubt, break Dracula out. All you need to achieve this timeless look is a white base, black widow's peak, artfully drawn fangs, some clever shadowing, and a bit of fake blood.
9. Rainbow Panda
What do you get when you combine two of every kid's favorite things? A rainbow panda, of course. Makeup artist Katie DiStefano even offers an easy, breezy tutorial for this colorful look.
10. Creepy Clown
If your kiddo isn't afraid of clowns (there's nothing scarier than a clown, IMHO), this creepy clown look might delight their dark little heart. While it probably requires a bit more finesse in the makeup skills department than the rest of this list, it's still a relatively simple design to recreate.
11. Candy Corn Leopard
https://www.instagram.com/p/B4DpukUgqVi/
We love makeup ideas that pull double-duty! This one fits the bill because it combines two classic Halloween designs: a leopard look and candy corn. If you need a more in-depth tutorial, makeup artist Ashley Henson shares instructions for a similar style.
12. Glamorous Wolf
https://www.instagram.com/p/B3FSHa-l5IV/
Seriously, we couldn't love this look more if we tried! Granted, it isn't going to be the simplest style you can try. However, if you're more confident in your makeup skills, we highly recommend trying to transform your little one into a glam wolf. The key here is using a variety of angled brushes and makeup pens to give the appearance of fur.
13. Corpse Bride
This look could easily be recreated for kids… you know, as long as you have plenty of blue face and body makeup! Make sure you have a family movie night to watch Tim Burton's Corpse Bride before attempting it, though.
14. Mermaid
This one might look intense, but it's really not that complex to recreate. And, even better, you won't be able to tell too much if you don't get it just right — everything will sort of blend in at the end anyway.
https://www.tiktok.com/@katiefarhood/video/6884666825590770950?is_from_webapp=1&sender_device=pc&web_id7015579488039224837
This article was originally published on