Try Your Hand At Halloween Nail Art For Kids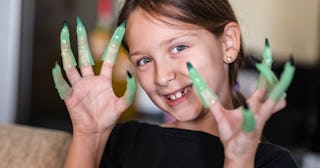 Dobrila Vignjevic/Getty Images
It may not be our daily norm, but Halloween allows everyone to indulge in being a little… well, extra. You go all out with your kid's costume. Your kid's Halloween makeup is next level. Your house gets stocked with enough candy to feed a small sugar-lovin' army. So, why not give Halloween nails for kids a try, too? You've gone this far to show off your little one's spooky spirit in ways both scary and silly — might as well go for broke!
Admittedly, the idea of nail art can be a bit intimidating, especially for those of us who aren't natural artists. But c'mon; we're fortunate to be raising our kiddos in the age of internet tutorials. Watch a few Halloween nail art videos online, practice your skills on a blank piece of paper, and you'll be a nail art pro before you know it. YouTube nail artists Kelli Marissa, Sandi Crystal Ball, and Nails By Jema all offer some excellent beginner nail art tutorials to try. And even if you mess up, it's no biggie. You can grab a bottle of fingernail polish remover and start over.
Don't be afraid to give it a shot, though. If ever there was a time to have fun trying something new, it's the season of all things spooky and kooky. So, to get your creative juices flowing, we've gathered up some of our favorite Halloween nails for kids (or that can be easily adapted for kids).
Halloween Nail Art Inspiration for Kids
1. Black Cats
This cute black cat design is simple enough that you don't have to be a budding Picasso to pull it off. Plus, you can probably create it using just a dotting tool and a toothpick.
2. Jack Skellington
https://www.instagram.com/p/CFvPF7BjLS-/
This is Halloween, this is Halloween! First, start with a base of black nail polish. Then, channel your inner Pumpkin King to create Jack Skellington and other Nightmare Before Christmas designs on your kid's cute digits.
3. Oozy, Boozy
https://www.instagram.com/p/CFyOkgbjoEh/
Lime green, black, and white — that's all you'd need to pull off this easy but oh-so-fun Halloween manicure. If you're less confident in your art skills (or your kid's nails are super tiny), you could even skip the black cat and stick to the more basic stripes and eyeballs.
4. All Things Harry Potter
https://www.instagram.com/p/CFyLH9ZsNXj/
If your kid is a Potterhead, they'll think this nail art idea is truly magical. The designs are minimal enough to be pretty universally achievable, too. Just don't forget to differentiate your colors based on the house into which your little witch or wizard was sorted (#TeamRavenclaw here).
5. Spooky Stuff
Break out the black, orange, yellow, and white! These Halloween nails make a great classic option, meaning you won't have to change it up so often.
6. A Duotone Design
https://www.instagram.com/p/CFsBOieDybI/
It doesn't get much easier than this, honestly. You only need black and orange nail polish and can basically freehand the design. Bonus: You can use pretty much any two Halloween-y colors your kiddo wants.
7. Candy Corn-Inspired
Could this be any sweeter?! We love that it's not just a candy corn mani, but a candy corn mani that incorporates complementary designs. You could easily get this look with just a brush and a dotting tool.
8. Halloween Sparkle
Okay, Mama… this Halloween mani will take a bit more precision. However, it'll be well worth the extra practice to see your little one's face every time they look at their sparkly ghost-and-mummy nails.
9. Peek-a-Boo
If your kid has been begging for Halloween nails and you've been dreading it, this nail art idea may be right up your (dark) alley. Since it's basically just a black mani, you only have to put in the real work on two nails. And the peek-a-boo design is delightfully simple.
10. Black Moon
https://www.instagram.com/p/CFsLxv_CIB5/
Some kids like their Halloween more sweet than spooky, and that's perfectly alright. For those little ones, this chic pale-pink-and-black moon mani would surely be a hit. You'll like it, too, since it requires very little artistry.
11. Oogly, Googly Eyes
https://www.instagram.com/p/CFqLNtRAMZD/
Time to invest in a few dotting tools! These googly eye Halloween nails will make your little one smile, and all they require are dotting tools in two different sizes.
12. Pumpkin Spice and Everything Nice
https://www.instagram.com/p/CFxfux-h8V7/
We couldn't very well compile a list of Halloween kid nail art ideas and not include pumpkins, could we? Everyone loves these iconic fall gourds! And your little one will be the cutest pumpkin in the patch with this monochromatic mani.
13. Boo Crew
https://www.instagram.com/p/CFyLj0CDNj5/
Listen, we aren't all cut out to be Halloween manicure masters. If you tried your hand at nail art and just made a mess, don't fret. Dry nail polish strips come in lots of cute designs, including glow-in-the-dark Halloween options.
14. Going Batty
https://www.instagram.com/p/CFxnOsvBMrO/
Another dry nail polish option perfect for tiny nails? This cute and easy manicure set is practically made for all the mamas who went "batty" trying to create freehand nail art.
15. The Kawaii Aesthetic
Kawaii nails are super on-trend right now. Although let's be real, your kid won't really care about how on-trend these nails are; they'll just be super-excited to have such fun and bubbly art right on their fingertips.
This article was originally published on