Alohomora! 15+ Harry Potter Crafts Sure To Unlock Your Creative Side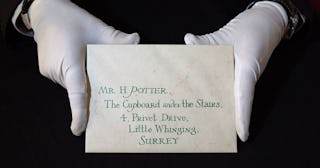 John Phillips/Stringer/Getty Images
It's been more than a decade, but the Harry Potter franchise is still our absolute favorite. In fact, we'll take Harry Potter in any form we can get him. Movies? Yes, please. Books? Absolutely! We swoon for Harry Potter pick-up lines, laugh our butts off at Harry Potter jokes (even the dark ones), and can answer any Harry Potter trivia you throw at us. We know the secret symbols and even have our favorite spells. And, yes, we know the Potter family tree (and all the other family trees). While there are other movies like Harry Potter, there's only one true "chosen one." That's why we take any opportunity afforded to us to spend an evening curled up on the couch under blankets, binge-watching the entire series. But what if we want to keep our hands busy? What if we need to kick our viewing party up a notch with some seriously solid Harry Potter crafts and decor? Yes, witch! We love those, too.
Anyone who has spent any time on Pinterest knows there is no shortage of inspiration out there when it comes to getting HP crafty. So much so that it can feel overwhelming figuring out where to even begin! But like the Marauder's Map helped point Harry and his pals in the right direction(s), we're here for you. These particular Harry Potter crafts are our absolute favorites, thus making them a fantastic jumping-off point for your HP crafternoon.
1. Hagrid-Approved Sweatshirt
One of the sweetest moments in the first Harry Potter movie is when Hagrid bakes Harry a birthday cake. Even the terrible icing job and poor spelling can't ruin the truly lovely moment that totally illustrates just how important Harry is to Hagrid and the rest of the wizarding world. We love the idea of taking a pink sweatshirt (which you can get just about anywhere) and embroidering it. No fancy techniques are needed here to create a one-of-a-kind birthday sweatshirt for you or your friend.
2. Monster Book of Monsters
J.K. Rowling built such an elaborate, well-thought-out world that sometimes we're still in awe of all the detail that came from one person's imagination. The furry and furious Monster Book of Monsters was one such example of her creativity. Below, you can see how easy it is to create one out of a brick and make a bookend or dress up an old book you might have collecting dust.
3. Hogwarts Floating Candles
Is there anything more magical and, honestly, romantic than the floating candles over the dining tables in the Great Hall? There are many ways to recreate that look, but this tutorial makes it look fantastically simple (and cheap!).
4. DIY Wand
There are several ways to make a wand. You can use a hot glue gun or clay to add detail to sticks, wooden dowels, or drumsticks. Once you've perfected your design, use paint to make your wand look like one wooden piece for a unique-to-you wand like the ones below.
5. Harry Potter Flying Keys
Do you remember the flying keys? It's imagery that has stuck with the Potter franchise since its inception because it's just so whimsical and fun. It's also crazy easy to recreate the idea! These winged keys would be perfect as a photo backdrop or as decoration in a boring mudroom.
6. Super Easy Quidditch Snitch
The snitch is another part of wizarding lore that sticks with Potter fans. Like the flying keys, a rudimentary snitch can be fairly easy to recreate and can be used in many ways. We want to make a dozen to hang on our Christmas tree.
https://www.instagram.com/p/CS1X14YISkF/
7. Your Own Spooky Decor
Remember the warning written in blood on Hogwarts' walls when the Chamber of Secrets was opened? You can use an old, intricate mirror and some simple craft supplies to recreate the scene. And, honestly, why wouldn't you?
8. Harry Potter Coasters
These gorgeous, rustic coasters are so simple to make. They're just thinly cut disks from a tree branch that have been burnt and etched with Harry Potter symbols. You could also use paint or a Sharpie to recreate the designs. Just shellac over the top so condensation from your glass doesn't ruin them.
9. HP Peg People
Peg people are wildly popular in Montessori learning for kids. While some families leave their peg people relatively plain, there's no rule (that we know of) that says you must follow that idea. We love the idea of making the Wizarding crew out of pegs, so our smaller kids can create their own magical stories and make their own Hogwarts adventures.
10. Hedwig Bookmark
This bookmark is printable and colorable. We love it. But we also love the idea of getting your own craft paper or cardstock and designing your own Harry Potter-themed page marker.
11. Or A Very Snape-y Bookmark
And if you want to be super meta? How about using this line from Severus Snape?
https://www.instagram.com/p/CR1W17VHAFs/
12. DIY Honeydukes Candy Corner
We may or may not keep Pepper Imps in our pantry at all times — but we're not sharing them with anyone. Instead, we suggest printing out some Honeydukes logos and using Modge Podge to glue them into the front of glass containers in different shapes and sizes. Then you can fill them with whatever candy you're willing to share, witchy or not. A cluster of these jars on your mantle or open shelving would be the perfect decoration for an HP-themed party.
13. Potion Bottles
Potion bottles can be as elaborate or as simple as you want. Many people find just collecting oddly shaped bottles and plastering some fun labels on them is "good enough." We love the idea of mixing colorful, glittering potions to put inside.
14. Your Letter From Hogwarts
There are a million tutorials on how to create your own Hogwarts letter. There are even Etsy shops that will do all the work for you. This video tutorial makes the process look pretty simple, though, so you can save money and DIY this project. It's the perfect way to design an invite to an HP movie night.
15. Mandrake Mania
Do you have Hogwarts pride? Well, then it's time to do some homework. You may not be planting a mandrake, but you can make your very own. It's definitely more of a sculpting exercise, but this video is super thorough and walks you through each step so you can make your cutest (or ugliest) mandrake.
Supplies You'll Need:
Aluminum foil
Wire
Pliers
Tweezers
Clay
Superglue
Acrylic paint
Black, brown, red, green, white, or yellow paint
Glue gun
16. Wand Pencils
Looking to add some Hogwarts flare to your everyday items. How about your pencils? Turn your writing utensils into wands using a bit of hot glue and paint. Put the paste from the hot glue gun at the end of your pencil, and make sure to wrap it around. Then, when you're just about done, do one wrap around in the opposite direction. Once everything is dry, dip it into the paint.
Supplies You'll Need:
Pencils
Hot glue gun
Silver, gold, or brown acrylic paint
17. Chocolate Frogs
We all love a craft we can eat. When the snack trolley rolled through the train to Hogwarts, it's safe to say we were all a little jealous of the yummy goodies Harry and his pals got to eat. The chocolate frog is definitely one of the most memorable snacks. So, here's the chance to see what it tastes like. See below for how to make your very own magical chocolate frog.
This article was originally published on