Only Helen Mirren Could Pull Off A Bathtub Interview
by Erica Gerald Mason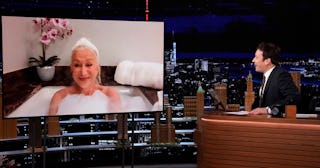 Andrew Lipovsky/NBC
Helen Mirren showed up for a talk show appearance from her bathtub, and that's exactly the energy we need for 2021
While we mortals struggle to find the perfect outfit for Zoom calls, Helen Mirren continues to flit through life unbothered and delightfully charming. Other people might utilize Zoom to give viewers a peek into their lives by showing a glimpse of a photograph (looking at you, the Duke and Duchess of Cambridge), but Dame Helen Mirren gave viewers a decidedly more intimate vignette.
The Academy award-winning actor appeared on The Tonight Show With Jimmy Fallon on Thursday from her tub, telling the talk show host it was her "favorite place in the world."
As Mirren luxuriated in the bath, Fallon told the actor she was the first guest ever to appear from their bathroom.
"That's the brilliant thing about Zoom," she said. "I was thinking, why not be in the place that you love to sit and chat to people? I love having a chat to my husband while I'm sitting in the bath, so why not do it to the whole of America?"
Even goddesses have problems though.
"I'm running out of bubbles!" Mirren said. "You were chatting away and I was waiting and my bubbles were going down."
During the interview, Mirren also shared a video of herself chasing off a bear that was trying to climb on her porch.
Mirren told Fallen she'd learned how to behave when confronted with a bear "looking aggressively at you" and "hunching its back like it is about to charge" …from a pamphlet.
Dame Helen explained: "They said you make yourself look as big as possible, if you can grab a stick, make yourself look big and then it literally said and then shout, 'Bad bear, bad bear!'"
Mirren, who is doing publicity for F9, wowed fans with her general badass attitude.
The legendary actor's trademark cool and witty banter shone through in the latest iteration of the Fast and Furious franchise.
One fan didn't understand how Mirren hasn't been getting more accolades.
"I feel like Helen Mirren being in the new Fast & Furious movie isn't getting enough attention as the most 2021 possible thing," one fan tweeted.
The films, which typically center around male leads Vin Diesel, Dwayne Johnson, and Jason Statham, deffo benefited from BHE (Big Helen Energy).
As the film hits screens, some fans wonder if producers should cast more legendary female actors in leading roles.
"With Helen Mirren in Fast and Furious 9, I propose every new iteration replaces one core member of the Vin Diesel family with a beloved Hollywood actress until we eventually work our way back to a sequel to Oceans 8," one fan tweeted. And we're here for it.