Hillary Clinton Trolls Trump's Twitter Ban With One Perfect Tweet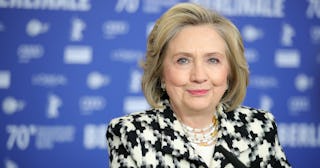 Andreas Rentz/Getty Images
One emoji was all it took for Clinton to put the final nail in the coffin
Yesterday was a no good, very bad day for Donald Trump. Twitter, Trump's favorite social media platform and where he did most of his presidenting, permanently banned him. That's forever. People began reacting immediately, but it was former Secretary Of State Hillary Clinton who won the day with one single emoji.
Clinton tweeted her reaction shortly after Twitter announced its decision by sharing a tweet she wrote in 2016, several months before Trump took office. "Delete your account," she wrote to him during her presidential campaign after he mocked her for being endorsed by former President Barack Obama. Yesterday, she responded to her own tweet with just a single black checkmark.
And that, ladies and gentlemen, is how it's done.
According to tweets posted on Friday by Twitter Safety, "after close review of recent Tweets from the @realDonaldTrump account and the context around them, we have permanently suspended the account due to the risk of further incitement of violence." Later, Twitter said in a statement that "Our determination is that the two Tweets above are likely to inspire others to replicate the violent acts that took place on January 6, 2021."
The first tweet read: "The 75,000,000 great American Patriots who voted for me, AMERICA FIRST, and MAKE AMERICA GREAT AGAIN, will have a GIANT VOICE long into the future. They will not be disrespected or treated unfairly in any way, shape or form!!!" The second: "To all of those who have asked, I will not be going to the Inauguration on January 20th." His statements imply that, "the Inauguration would be a "safe" target, as he will not be attending," Twitter said.
Though that was the final straw, his use of Twitter to rally his base and spread hate should have been stopped long ago, which wasn't lost on some:
But Clinton wasn't the only one to respond to the news with humor (because we all need it right now):
Trump being Trump, he tried getting on other Twitter accounts to plead his case. On Friday evening, Trump sent out three tweets from the @POTUS account, a government handle reserved for the sitting president of the United States, all which were promptly deleted.
Someone forgot to tell Rudy Giuliani, who seemed confused he couldn't find his boss on Twitter:
Luckily someone cleared it up for him real quick:
Celebrities also got in on the action when they heard the news:
Of course, it didn't really happen until Chrissy Teigen responds, which she so eloquently did:
Trump obviously didn't respond to the reactions because, well, he's banned for life. He's also been indefinitely suspended from Facebook, Reddit, and Instagram.
According to Politico, Trump went "ballistic" upon learning the news and was "scrambling to figure out what his options are." In a statement issued by the White House later in the night, Trump said he'd been "negotiating with various other sites" while "we also look at the possibilities of building out our own platform in the near future." We'll be on pins and needles waiting.