Get Ready For Your Glow Up With These Easy Homemade Toner Recipes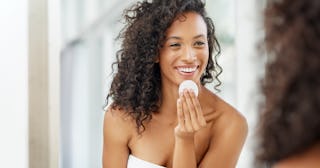 LaylaBird/Getty
When it comes to beauty routines, less is better. Or at least it needs to be when you're busy with kids. You're probably used to cleansing and moisturizing but skipping the in-between step, also known as toner. If we hit the nail on the head and you've been skipping the toner, you might want to reconsider — especially when you have the option of using homemade toner. First off, toner is so much more than water or whatever that blue crap we used as teens to get rid of our zits. Exposure to pollutants and heat can make our skin patchy, dull, and oily. Toner helps to improve skin elasticity while tightening and, yes, toning the skin. Homemade toners are not only light on the wallet but knowing what you put on your skin is gentler and generally safer for you. Plus, it's fun to act as a beauty chemist! If you're looking to make your own DIY toner, here's what you need to know.
What is a toner?
So what is a toner if it's not fancy and expensive water? Well, it's key to note that toner has come a long way from the '90s when most were targeted towards acne and oily skin, and therefore way too astringent, and drying for the skin. A number of toners used to include large amounts of alcohol, which did not make for a radiant and glowing complexion. Now skin toners are used for an array of skin concerns and not just for pimples. Depending on the toner, it's typically jam-packed with antioxidants, botanical extracts, acids, and anti-inflammatories — and very little alcohol.
You can think of toner as your second cleanser. Like a palate cleanser for your face. After you've cleansed your face, toner is used to clean your face of any residue and helps prep the face for serums and moisturizers. It also helps to tighten and minimize the size of pores while also further hydrating the skin and improving elasticity. It's recommended to use toner for both your day and nighttime skin routines. If you exfoliate, use a toner after to really make sure those yucky impurities stay away. You can apply toner either with your clean hands or on a cotton ball. You might also use a spray bottle and gently mist your face.
Are you excited to make your own homemade toner?
Homemade Toner for Oily Skin
Using a homemade toner is great for those with oily skin as it really helps restore the pH balance of your skin and prepare your face to reap the benefits of your serums and moisturizer without looking super oily. Here are some toner recipes to help get you started.
Apple Cider Vinegar
Mix 1 tablespoon of apple cider vinegar in 1 cup of distilled water.
Pour the solution into a reusable container and immerse a cotton ball in the solution.
Mint Leaves
Boil 6 cups of water.
Add a handful of mint leaves to the water while it is still hot.
After 20 to 25 minutes, turn off the stove.
Strain the leaves and store them in your toner bottle.
Allow the solution to cool before pouring it into a reusable container.
Camphor and Rosewater
Mix a pinch of camphor with 1 ½ tablespoon of rose water (which you can buy or make on your own).
Apply the solution to your face for five minutes.
Rinse off with lukewarm water.
Green Tea
Boil a cup of water.
Dip a green tea bag or mix one teaspoon of green tea leaves into the water.
Once it cools down, pour it into a glass container and put it in the fridge for seven to eight days.
*Green tea is choc-full of epigallocatechin gallate, which is a chemical that helps with acne inflammation. It is both an antibiotic and antioxidant!
Homemade Toner for Dry Skin
A homemade toner is perfect for dry skin as it provides the hydration and nourishment that your parched skin needs. Here are a few toners to help get you started.
Honey and Mint
Boil six cups of water in a pan.
Add a handful of mint to it. After 20 to 25 minutes, turn off the stove and add 1 tablespoon of honey to it.
Strain away the leaves and store them in your toner bottle.
Allow the solution to cool before using.
Cucumber and Aloe Vera
Peel and chop a cucumber; transfer to a pan on the stove with 6 cups of distilled water.
Heat at low temperature and then let cool.
Blend and strain. Then add to your container.
Add a few drops of aloe vera.
Cinnamon and Anise
Boil the plant anise and cinnamon sticks in water for about 20 minutes.
Let it cool for five hours before putting it in a glass jar.
*Cinnamon can do wonders for your skin. It helps with blood circulation and boosts collagen production. And anise is good for building up elasticity and removing toxins from the skin.
This article was originally published on