How To Draw A Dog: A Step-By-Step Guide (VIDEOS)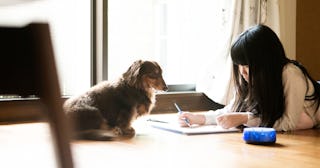 Taiyou Nomachi/Getty Images
Feeling like your drawing skills peaked in the 5th grade? We get it. Us, too. If you've been long dreaming of adding to your doodle repertoire, we feel that, too. As luck would have it, you're in the right place. There are a ton of amazing tutorials out there for literally anything you could want to draw. Wanna draw a cat? We gotchu. How about a rose? We can also help you with that! And if you find you aren't as good at drawing as you hoped? S'ok, friend. Just go back to adult coloring. It's so much fun, relaxing, and (pretty much) impossible to mess up. But, what about dogs? Can we help you learn how to draw a dog? Yep, we actually totally can.
Whether you want an adorable puppy doodle for your lunch bag notes or truly want to up your game when drawing the family dog, there's an awesome video tutorial that'll help you get there. All the videos below offer step-by-step instructions, simple language, and helpful tips. Which one — or multiples — will work best for you?
How to Draw a Dog: Easy for Kids
If it's your kiddo who wants to learn how to draw a doggo, we've got the answer. Actually, we have a few answers. These videos are some of the easiest dog drawing tutorials to find. They're perfect and super-simple to follow for even your younger budding artist. The only thing that could make these video tutorials more captivating would be if they were narrated by, like, Clifford the Big Red Dog.
With Body
This is definitely a step up from the oval and circle dogs we drew when we were kids, right? This guy looks like he should be on backpacks and toys for tweens. Those eyes are especially heart-melting. Fair warning: We make absolutely no promises that your kiddos aren't going to start asking for their own pup.
Another Cute Whole Puppy
This little doggo! This little loaf! We love everything about this simple puppy doodle, and we think you will, too.
Adorable Puppy Face
Sometimes a whole body is too much to ask. What you really need is just a sweet and sort of sad little face. This doggo deserves all the treats, don't you think?
How to Draw a Dog: Using Familiar Images
Is your little one still struggling to nail down a puppy picture? Sometimes it's overwhelming to draw a completely new shape. Both of these tutorials riff off of shapes your child likely already knows, like alphabet letters and numbers. As a bonus for you, turning the word "dog" into a drawing of an actual dog is a pretty cool party trick. Or, well, it'll at least impress your tiny humans.
From Numbers
From the Word Dog
How to Draw a More Realistic Dog
So, you've nailed the super cartoon canines. Now it's time to up your game and take your art to the next level! These two videos are great examples of how to draw more realistic dog drawings.
Pupper Face
If you really want to draw a realistic version of Fido, you've got to nail that snout and those "puppy dog eyes." Don't fret if your first, second, and/or 17th version still looks a little dead in the eyes. Capturing emotion is something most artists struggle with! Well, emotion and hands.
German Shepard in Shades Face
Uh… is that one of our First Dogs, Champ and Major Biden? It sure does look like it.
How to Draw Parts of the Dog Body
Now that you've mastered the basic shape, it might be nice to get into the nuts and bolts of how to draw a dog. Perfecting the dog's nose, paw, and fur will help bring your canine drawing up to snuff.
Not Just Any Paw — A Really Great Dog Paw
The Absolute Best Way to Draw Fur
Super Realistic Dog Nose
Dog Bone
And there you have it. Your little one will be well on their way to becoming a bone-a-fide (gotta love dog jokes!) artist with these easy-to-follow tutorials.
Art Materials for Drawing a Dog
Graphite pencils — If you're going for the realistic dog image, this pencil is great for sketching out the fine details.
Pastel pencils — This isn't your average colored pencil. These pencils have a chalkier feel and are perfect for shading in your puppy's fur.
Conté Sticks — Conté sticks give your drawings a more professional look. If you like pastel pencils, you'll love this tool for its similar chalky touch.
Erasers — Drawing the perfect dog doesn't come without making a few mistakes. So, make sure you have a few in different sizes. The little ones will come in handy for those narrow and intricate mistakes.
Furry fabric — You can cut the fabric into the shape of your dog and glue it to your canvas.
Buttons — After you've given your dog fur, glue on some buttons for the eyes. It'll look just like a stuffed animal.
How to Make a Dog Mask for Humans
Take things a step further and become a dog! Now that you know how to draw a pup, put those skills to the test with your very own dog mask. Click on the video below for a step-by-step guide to creating the perfect doggy disguise.
Materials
Pencil
Paper plate
Paint and paintbrush
Pompom
Glitter
Elastic
Hot glue
School glue
Scissors
Utility knife
Hole punch
How to Draw Scooby Doo
Where would Mystery Inc. be without its lovable dog, Scooby-Doo? Although this great dane was probably the biggest scaredy-cat on television, he showed us what bravery was. Doing the things you're afraid to do is the definition of courage. Scooby Dooby Doo may have been created in 1969, but decades later, Scooby and the gang can still spark the detective in all of us. Here's a step-by-step tutorial on how to draw the classic pup.
This article was originally published on