How To Draw A Rose: A Beginning Artist's Guide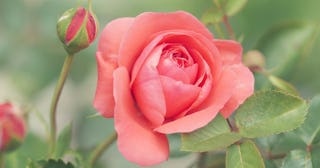 Shannon Ferguson/Unsplash
There's a reason roses are so popular: Everything about them is beautiful. Roses come in tons of colors and thousands of varieties. Every single type of rose smells just as sweet, too. Of course, the red rose is a flower that is especially symbolic of romantic, passionate love. While you may adore roses, are you able to draw one? Well, if you want to learn how to draw a rose, you came to the right place, friend.
Drawing can be so fun and relaxing — if you know what you're doing and have "the eye." But, when it doesn't come naturally or you're still in the beginning phases of learning to draw, everything can seem overwhelming. Even drawing a simple dog or cat can feel difficult. It's okay to feel defeated for a while. Maybe take a break and try coloring for a change. Just so long as you don't give up completely.
And, hey, a rose is a great place to start with your art. We almost all know how to draw the simple spiralized closed rose. It's one of the first flower varieties we learned to draw after daisies and tulips. Maybe it's time for an upgrade, though. Below, you'll find multiple techniques for how to draw roses. From drawing something simple to stretching your boundaries and tackling something more realistic, we found great video tutorials for any goal you or your little Monet may have.
How to Draw a Rose Using Familiar Shapes
For kids, especially, it's sometimes easier to start with a familiar shape. Not only will it seem less daunting at the beginning, but it might also make it easier to remember how to do it later.
From The Letter S
This "S"-shaped rose will look especially familiar to those of us who grew up in the '90s. Who had at least one million of these sweet spiraled-center roses doodled on their 9th grade English folder? Raise your hand. Don't be shy!
From A Heart
A rose from a heart? Could it *be* any more perfect?! (Go ahead and read that in the voice of Chandler Bing from Friends, please!) It's such a simple version of a closed, long-stem rose.
Different Kinds of Roses To Draw
As previously mentioned, there are many kinds of roses. Those long-stemmed roses you get on Valentine's Day look nothing like the ones that grow on the bushes along your driveway. And even as the rose progresses through its life, it takes on many different looks. From the tiny, almost sneaky rosebud to the fluffed out and wide-open look a rose takes in its final stage, each version of the rose is worth artistic study.
Open Rose
Closed Rose
Super Simple Rose
A Very Realistic Rosebud
It's an itty bitty bebe rose! It looks like the perfect birthing place for a dainty little flower fairy, right? Most flower buds look surprisingly similar in this stage of their life. Feel free to stick a wayward flower bud onto the side of any flower's stem to add a little more "oomph" to your drawing.
How to Draw a Realistic Rose
Looking forward to something a little more complicated or complex? The rose in this tutorial is hyper-realistic. It'll take a lot more practice to master. However, the final picture will be worth the effort. We think this rose translates especially well for roses in a vase. However, you could easily take this bud and put it on a bush, if you're working on mastering that.
Another "How To" Option For Your Kids
If the familiar shapes weren't enough for your kiddo, you might try another super easy rose drawing tutorial. After all, sometimes things just don't stick the first or second time you try them, right? Sometimes it's the teacher, other times it's the technique. And every once in a while, the "student" just isn't in the right mindset. This kid-friendly video on how to draw a rose might just be the answer.
Once you and your "budding" gardener finish drawing your rose, share it with us! Tag us on social @ScaryMommy.
What colors do roses come in naturally?
After drawing a rose, the first thing you'll want to do is color it in. Of course, you can make your flower any color you like, but if you're going for a natural look stay away from certain tones. Most roses come in white, red, or pink. Colors like yellow, orange, purple, brown, and green aren't hues found in wild roses, but hybrids developed by plant breeders.
How do you make a rose craft?
It's time to bring your rosebud to life. Now that you know how to draw a rose, you can create one to hold. Here's everything you need to make a three-dimensional rose.
Construction paper
Green pipe cleaners
Scissors
Glue
Instructions
Draw a thick, even spiral.
Then cut the spiral out and roll it. Do this until you get to the center.
Glue the end so that it doesn't unravel.
Push the green pipe cleaner through the center of the rose. If it's too thick, use scissors to make a little hole.
Pull the pipe cleaner through just enough, so that it's through the rose and you can hold the button. And voila!
Rose Quotes
These quotes about roses will put you in the sweetest mood. We've scoured the web and handpicked the sweetest statements about the flower of love.
"A rose does not answer its enemies with words, but with beauty." — Matshona Dhliwayo
"World without poetry is like a lover without a rose." — Shiny "They are not long, the days of wine and roses." — Ernest Dowson "No rose without a thorn." — French Proverb "My life is part humor, part roses, part thorns." — Bret Michaels "Do not watch the petals fall from the rose with sadness, know that, like life, things sometimes must fade, before they can bloom again." — Anonymous "The sharp thorn often produces delicate roses." — Ovid
How to Draw the Beauty and the Beast Rose Painting
It's a tale as old as time… Beauty and the Beast. Through the drama, the enchanted rose in the glass was a constant reminder that this love story was on the clock. It also taught us that love is just as much about timing as it is about sacrifice. This fairytale's plot is literally carried in the petals of this flower. So, if you're looking to add some magic to your home, here's how to draw the rose.
This article was originally published on